03-01-2019 | Original Article | Uitgave 5/2019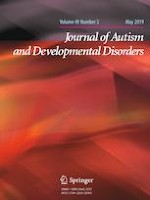 Temperament as an Early Risk Marker for Autism Spectrum Disorders? A Longitudinal Study of High-Risk and Low-Risk Infants
Tijdschrift:
Auteurs:

M. K. J. Pijl, G. Bussu, T. Charman, M. H. Johnson, E. J. H. Jones, G. Pasco, I. J. Oosterling, N. N. J. Rommelse, J. K. Buitelaar, The BASIS Team
Belangrijke opmerkingen
Electronic supplementary material
The members of The BASIS Team are listed in Acknowledgments.
Publisher's Note
Springer Nature remains neutral with regard to jurisdictional claims in published maps and institutional affiliations.
Abstract
To investigate temperament as an early risk marker for autism spectrum disorder (ASD), we examined parent-reported temperament for high-risk (HR, n = 170) and low-risk (LR, n = 77) siblings at 8, 14, and 24 months. Diagnostic assessment was performed at 36 months. Group-based analyses showed linear risk gradients, with more atypical temperament for HR-ASD, followed by HR-Atypical, HR-Typical, and LR siblings. Temperament differed significantly between outcome groups (0.03 ≤ 
η
p
2
 ≤ 0.34). Machine learning analyses showed that, at an individual level, HR-ASD siblings could not be identified accurately, whereas HR infants without ASD could. Our results emphasize the discrepancy between group-based and individual-based predictions and suggest that while temperament does not facilitate early identification of ASD individually, it may help identify HR infants who do not develop ASD.