01-06-2012 | Uitgave 2/2012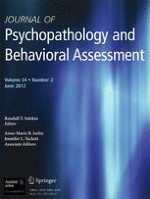 Temperament and Problematic Alcohol Use in Adolescence: an Examination of Drinking Motives as Mediators
Auteurs:

Lore Willem, Patricia Bijttebier, Laurence Claes, Antje Uytterhaegen
Belangrijke opmerkingen
The study was supported by Grant G.0357.08 from the Fund of Scientific Research-Flanders to Patricia Bijttebier and Laurence Claes.
Abstract
The present study investigated the associations between temperamental reactivity, drinking motives, alcohol consumption and alcohol-related consequences. Furthermore, it investigated whether drinking motives mediate the relations between temperamental reactivity and the alcohol use variables. The sample consisted of 188 adolescents (64.9% boys) between the ages of 13–20 years (
M
age
 = 16.9,
SD
 = 1.32). Results revealed that the temperament factors of high BAS fun seeking and high negative affectivity were related to alcohol consumption and alcohol-related consequences respectively. Furthermore, high social and enhancement motives and low conformity motives were associated with alcohol consumption, whereas high coping-depression motives were associated with alcohol-related consequences. Finally, the relation between BAS fun seeking and alcohol consumption was mediated by enhancement and social motives and the association between negative affectivity and alcohol-related consequences was mediated by coping-depression motives. These results highlight the importance of focusing on temperament profiles and their associated drinking motives in the prevention and intervention of alcohol use problems among adolescents.