01-12-2019 | Research | Uitgave 1/2019 Open Access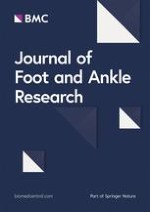 Systematic review on the comparative effectiveness of foot orthoses in patients with rheumatoid arthritis
Tijdschrift:
Auteurs:

Marloes Tenten-Diepenmaat, Joost Dekker, Martijn W. Heymans, Leo D. Roorda, Thea P. M. Vliet Vlieland, Marike van der Leeden
Belangrijke opmerkingen
Electronic supplementary material
Abbreviations
CAM
Computer-Aided Manufacturing
FHSQ
Foot Health Status Questionnaire
HRQoL
Health Related Quality of Life
PEDRO scale
Physiotherapy Evidence Database scale
PRISMA
Preferred Reporting Items for Systematic Reviews and Meta-Analyses
QALY
Quality Adjusted Life Years
RB
Robinson Bashall Functional Assessment
RCT
Randomized Controlled Trial
SMD
Standardized Mean Difference
TADL
Toronto Activities of Daily Living Measure
Background
To date, there is no overview on the outcomes of the treatment with different kinds of FOs in patients with RA and a specific foot problem. In addition, there is a lack of knowledge on the costs that are related to treatment with different types of FOs. Therefore, the aim of the present review was to systematically summarize the literature on the comparative effectiveness of FOs in the treatment of various foot problems in patients with RA, on the primary outcomes foot function and foot pain, and the secondary outcomes physical functioning, health related quality of life (HRQoL), compliance, adverse events, the costs of FOs and patient satisfaction.
Methods
Protocol and registration
A detailed protocol for the present study has been previously published in PROSPERO (Prospero Record Registration No.: CRD42018082039). The manuscript was written in accordance with the PRISMA (Preferred Reporting Items for Systematic Reviews and Meta-Analyses) statement [
18
].
Eligibility criteria
Types of studies
(non) Randomized controlled trials (RCT), (non) randomized controlled cross-over trials and quasi-experimental clinical trials comparing different kinds of FOs were included. Only full-text original research reports, published in English, German, French, or Dutch were included. No restrictions concerning the year of publication were used.
Types of participants
The study population comprised patients ≥18 years of age and diagnosed with RA, or a defined subgroup of RA patients for whom data were presented separately.
Type of intervention and comparisons
Studies were eligible if patients received FOs with a presumed therapeutic effect for the treatment of RA related foot problems. Studies compared different FOs characteristics (i.e. materials used, type of FOs, or modifications applied) or different construction methods for manufacturing FOs. The only difference between the interventions was related to the FOs, while shoe condition and the target of the treatment remained stable.
Type of outcomes
Studies were eligible if at least one of the following outcomes was assessed: foot function (i.e. plantar pressure or gait parameters), foot pain, physical functioning (performance-based or self-reported), HRQoL, compliance, adverse events, the costs of FOs, or participant satisfaction.
Information sources, search and study selection
The following electronic databases were searched from inception to May 18th 2018: the Cochrane Central Registry for Controlled Trials (CENTRAL), PubMed, EMBASE and PEDro. Detailed search strategies are presented in Additional file
1
. Each database was searched independently by two researchers (MTD and MvdL). In addition, references lists of all selected publications were checked to retrieve relevant publications which have not been found with the computerized search.
Titles or abstracts of all studies were first screened independently by two reviewers (MTD and MvdL). For each selected study, the full article was retrieved. Next, the two reviewers independently performed final selection of studies to be included in the review based on the eligibility criteria. Disagreements on inclusion were resolved by discussion between the two reviewers.
Data collection process, data items and summary measures
Data were extracted by one reviewer (MTD) using a standardized template, and verified by a second reviewer (MvdL). From each included study, information was extracted on: authors, year of publication, study design, participant description (number of participants, setting, diagnosis, age and other clinical characteristics), description of intervention (including FOs characteristics and target of treatment for a specific foot region), longest point of follow-up, outcome measures and -if applicable- mean and standard deviations for baseline, follow-up and change scores in the outcomes, or percentages of change in the outcomes. Means were estimated from graphs, when no numerical data were supplied [
19
]. Disagreements or discrepancies on data extraction were resolved by discussion. If the study provided data from more than one measurement instrument, then the outcome measure most prevalent across studies was used in the analysis. For the studies in which the most prevalent outcome measure was not reported, data of the instrument highest in hierarchy was used. Based on the psychometric properties of the instruments [
20
] the following hierarchies (highest to lowest within the categories i-v) were applied: (i) foot function (plantar pressure):
pressure time integral, peak pressure, other instrument,
(ii) foot function (gait):
cadence, stride length, other instrument
, (iii) foot pain:
Foot Function Index subscale pain (FFI pain), Visual Analogue Scale for foot pain during walking (VAS foot pain), other instrument,
(iv) physical functioning:
Foot Function Index subscale disability (FFI disability), timed walking test, other instrument,
and (v) HRQoL:
Foot Health Status Questionnaire subscale general health (FHSQ general health), Visual Analogue Scale for general well-being (VAS general well-being), other instrument.
Methodological quality of individual studies
The methodological quality of included studies was assessed with the Physiotherapy Evidence Database (PEDro) scale [
21
]. The PEDro scale has been shown to be a valid, reliable and frequently used tool for assessing methodological quality of randomized controlled trials and clinical controlled trials [
22
–
24
]. It consists of 11 items to measure the quality of each included trial. Eight items (item 2–9) are used to assess internal validity and two items to assess interpretability of results (item 10–11). Item 1, assessing external validity, is excluded in calculating the total score [
25
]. Therefore, the score may range from 0 to 10 points. When a repeated measures or cross-over design was used, item 4 (similarity of baseline prognostic indicators between groups) was not applicable and the maximum possible score was 9. The score obtained for each study was divided by the maximum possible score and multiplied by 100 to provide a "study quality percentage". Study quality percentages were then classified as high (≥55–100%), fair (≥35- < 55%), or low (< 35%) according to Teasell et al. [
26
].
Quality assessments were independently evaluated by two reviewers (MTD and MvdL). Disagreements were resolved by discussion and, if necessary, by consultation of the third reviewer (JD).
Data synthesis
Data synthesis was conducted for the effect of FOs on (i) the primary outcomes foot function and foot pain and (ii) the secondary outcomes physical functioning, HRQoL, compliance, adverse events, the costs of FOs and participant satisfaction. For studies with no follow-up time, the immediate effect was used in analysis. The immediate effect reflects the differences within the same measurement session between the different FO conditions
.
Quantitative data analysis (meta-analysis) was conducted for between-group comparison of FOs characteristics or FOs construction methods. Outcomes measured during (in case of single-session measurement (studies with no follow-up)) or after wearing FOs (longitudinal studies with differing follow-up time) were used and aggregated in meta-analyses. Subgroup meta-analyses were performed in case of a sufficient number of studies for further specification, i.e. targeted foot region; follow-up time shoe condition; study quality.
Pooling of effect sizes across studies was performed using the standardized mean difference (SMD) and 95% confidence intervals (CI) in a random effects model [
27
]. SMDs were interpreted as 0.2 (small), 0.5 (medium) and 0.8 (large) [
28
]. The results are presented in forest plots for each comparison. Funnel plots were constructed for meta-analyses with ≥2 studies, to assess possible publication bias. Meta-analyses were conducted in computer software R [
29
]. Heterogeneity was tested using the eye ball test (forest plot).
When quantitative data analysis was not possible, a qualitative data analysis (best-evidence synthesis) was conducted. The data were summarized by assigning five levels of evidence (strong, moderate, weak, inconclusive and inconsistent) according to criteria adapted from Ariëns et al. (Table
1
) [
30
].
Table 1
Strength of evidence criteria [
30
]
| | |
| --- | --- |
| Strong | At least 2 high-quality studies with consistent findings |
| Moderate | 1 high-quality study and at least 2 low-quality studies with consistent findings |
| Weak | At least 2 low-quality studies with consistent findings |
| Inconclusive | Insufficient or conflicting studies |
| Inconsistent | Agreement of findings in < 75% of studies |
Results
Discussion
To our knowledge, this is the first published systematic review investigating the comparative effectiveness of FOs in patients with RA. The included studies showed a distinction in FOs characteristics (concerning materials, type and modifications) and construction methods for custom-made FOs (sophisticated versus standard techniques). The target of treatment with FOs was mostly reduction of forefoot plantar pressure or forefoot pain. A medium effect for the (immediate) reduction of forefoot plantar pressure was found in favor of treatment with soft FOs compared to semi-rigid FOs. Other comparisons concerning characteristics of FOs or construction methods resulted in non-significant effects or inconclusive evidence for one type of FOs over the other for both primary and secondary outcomes.
Conclusions
Foot orthoses made of soft materials may lead to more (immediate) forefoot plantar pressure reduction compared to foot orthoses constructed of semi-rigid materials. Definitive high quality RCTs, with adequate sample sizes and long-term follow-up, are needed to investigate the comparative (cost-) effectiveness of different kinds of foot orthoses for the treatment of foot problems related to rheumatoid arthritis.
Acknowledgements
Not applicable.
Availability of data and materials
The datasets used and/or analysed during the current study are available from the corresponding author on reasonable request.
Ethics approval and consent to participate
Not applicable.
Consent for publication
Not applicable.
Competing interests
The first author (MTD) declares to have a podiatry practice and to have a cooperation with a company in producing therapeutic shoes. Both companies may potentially benefit from, or be harmed by, publication of the results of the study. The co-authors declare that they have no competing interests.
Publisher's Note
Springer Nature remains neutral with regard to jurisdictional claims in published maps and institutional affiliations.
Open Access
This article is distributed under the terms of the Creative Commons Attribution 4.0 International License (
http://​creativecommons.​org/​licenses/​by/​4.​0/​
), which permits unrestricted use, distribution, and reproduction in any medium, provided you give appropriate credit to the original author(s) and the source, provide a link to the Creative Commons license, and indicate if changes were made. The Creative Commons Public Domain Dedication waiver (
http://​creativecommons.​org/​publicdomain/​zero/​1.​0/​
) applies to the data made available in this article, unless otherwise stated.