21-03-2015 | Uitgave 2/2016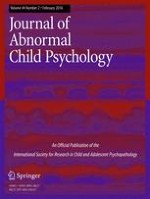 Symptom Trajectories Among Child Survivors of Maltreatment: Findings from the Longitudinal Studies of Child Abuse and Neglect (LONGSCAN)
Tijdschrift:
Auteurs:

Dean Lauterbach, Cherie Armour
Belangrijke opmerkingen
The data used in this publication were made available by the National Data Archive on Child Abuse and Neglect, Cornell University, Ithaca, NY, and have been used with permission. Data from
Longitudinal Studies of Child Abuse and Neglect (LONGSCAN) Assessments 0–14
were originally collected by Desmond K. Runyan, Howard Dubowitz, Diana J. English, Jonathan Kotch, Alan Litrownik, Richard Thompson and Terri Lewis & The LONGSCAN Investigator Group. Funding for the project was provided by the Office on Child Abuse and Neglect (OCAN), Children's Bureau, Administration for Children and Families, Dept. of Health and Human Services (The National Center on Child Abuse and Neglect (NCCAN), under the Office of Human Services funded this consortium of studies during the early years of data collection from 04/01/1991 until NCCAN became part of OCAN in 1998.) The collector of the original data, the funder, NDACAN, Cornell University and their agents or employees bear no responsibility for the analysis or interpretations.
Abstract
Very few studies have investigated the longitudinal trajectory of depression and anxiety related symptomatology among child victims of maltreatment or among those at risk for maltreatment. The current study examined latent class trajectories of anxiety/depression symptoms in a sample of 1354 (
n
 = 657 boys,
n
 = 697 girls) victimized or at risk children using data collected from the Longtitudinal Studies of Child Abuse and Neglect (LONGSCAN). Four trajectory groups were identified labeled low-stable, moderate-stable, moderate-increasing, and high-decreasing. This study also sought to investigate predictors of group membership. Relative to the low-stable group, membership in the three more pathological groups (i.e., moderate-stable, moderate-increasing, and high-decreasing) was predicted by a greater number of maltreatment allegations, more visits to a primary care physician for psychological issues, less perceived support by primary maternal caregiver, and lower rated popularity of the child. Implications for early identification of child maltreatment victims in primary health care settings was discussed.