25-10-2017 | Show and Tell | Uitgave 6/2017 Open Access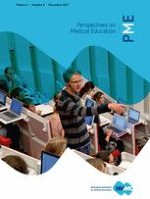 Symposia in undergraduate medical education: tailoring training in competencies to students' needs
Tijdschrift:
Auteurs:

Karin Reefman, Hester E. M. Daelmans, Ursula M. H. Klumpers, Gerda Croiset
Abstract
Introduction
In mastering competencies, it is a challenge to create training sessions which acknowledge individual students' needs and are logistically feasible in the medical master's program.
Methods
Symposia were implemented in the medical master's program to provide knowledge and training of skills in a number of topics, providing a positive contribution to students' competencies and personal development. Each symposium contained a morning and afternoon program, structured around medical and societal themes addressing various competencies and covering current national and international events. Alternating interactive teaching methods were used. Students were asked to rate each daypart program on a 5-point Likert scale in terms of both teaching methods and content, and to comment on the best aspects of the symposium as well as areas for improvement. Scores higher than 3.5 were interpreted as a predominantly favourable outcome.
Results
In 2016, 10 symposia were organized with an average of 108 attendees and a response rate of 63% (1,366 completed questionnaires). Mean overall scores on 'teaching methods' and 'usefulness for professional development' were 3.8 and 3.7, respectively. The overall results corresponded with a high level of student appreciation.
Conclusion
Symposia offer a podium for training students in subject matter and competencies that is greatly appreciated. Using alternating interactive teaching methods, symposia are structured around medical and societal themes and adjusted to the latest developments and current events in healthcare. By allowing students to select the symposia they would like to participate in, a tailor-made medical master's program in competencies is created.