20-03-2020 | Original Article | Uitgave 6/2020 Open Access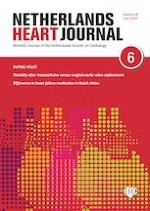 Surgical treatment and long-term outcome of aortic valve endocarditis with periannular abscess
Tijdschrift:
Auteurs:

S. I. Croon, A. Angkasuwan, A. H. van Straten, A. Khamooshian, T. W. Elenbaas, M. A. Soliman-Hamad
Belangrijke opmerkingen
The abstract of this manuscript was presented at the NVVC-NVT Najaarscongres (The Netherlands Society of Cardiology-Dutch Association for Thoracic Surgery Fall Conference), Congrescentrum Papendal, Arnhem, November 1st and 2nd, 2018. It won first prize in its group.
S.I. Croon and A. Angkasuwan contributed equally to the manuscript.
Abstract
Objectives
Aortic valve endocarditis is occasionally complicated by periannular spreading of the infection and abscess formation, leading to a more aggressive course of the disease and life-threatening complications. This retrospective observational study investigated the long-term outcomes of patients with this complication, which was surgically managed with annular reconstruction and aortic valve replacement.
Methods
Between 1998 and 2018, 69 patients were identified with aortic valve endocarditis complicated by periannular abscess formation. All patients were treated with debridement of the infected tissue, gentamicin filling of abscess cavities, annulus reconstruction with bovine pericardium, and valve replacement. Long-term follow-up was performed to detect the rate of recurrence of endocarditis, aortic valve reoperation and survival.
Results
Mean age was 58 ± 15 years, 81% of patients were male, and the infected valve was native in 51% of all patients. The overall mortality was 36%, with a 30-day mortality of 13% and 120–day mortality of 16%. Five- and 10-year survival was 69.4 ± 12.0% and 55.7 ± 14.3%, respectively. Ten-year freedom from recurrent endocarditis was 83.5 ± 13.3%.
Conclusion
Endocarditis with annular abscess remains associated with high morbidity and mortality and aggressive treatment of the infected tissue and abscess cavities is crucial. Compared with earlier literature, long-term outcome of annular reconstruction in this series is comparable to that of aortic root replacement.