2014 | OriginalPaper | Hoofdstuk
5. Surgical Anesthesia: When a Tool Becomes a Weapon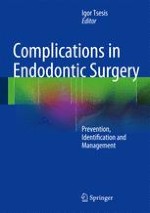 eerste hoofdstuk lezen
Auteurs: DMD Eyal Rosen, DMD Igor Tsesis
Uitgeverij: Springer Berlin Heidelberg
Abstract
Anesthesia is the loss of feeling or sensation as a result of an anesthetic agent and is an integral part of any endodontic surgical procedure. In certain cases, local anesthesia (LA) administration may result in complications, ranging from mild discomfort for the patient to catastrophical results and even death.
The complications following LA in endodontic surgery may be regional or systemic and may be related to the local anesthetic itself or to the supplementary vasoconstrictor. Severe systemic complications following LA, such as bronchospasm, seizure, anaphylactic shock, or cardiovascular complications, are rare but may have severe implications on the patient's general health. Regional LA complications, such as insufficient anesthesia, hematoma, and soft-tissue injuries, are more common, may cause severe discomfort for the patient, and may alter the ability to achieve the surgical goals.
The most important steps in managing untoward reactions to LA are the following: adopt a clinical practice aimed to prevent possible complications, diagnose the problem promptly when it does occur, treat it if necessary, and reassure the patient.