07-11-2017 | Uitgave 6/2018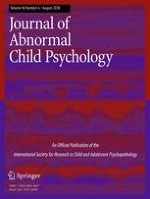 Summer Treatment Program for Preschoolers with Externalizing Behavior Problems: a Preliminary Examination of Parenting Outcomes
Tijdschrift:
Auteurs:

Paulo A. Graziano, Rosmary Ros, Katie C. Hart, Janine Slavec
Abstract
Within an at-risk sample of preschoolers with externalizing behavior problems (EBP), the current study examined the initial promise of a multimodal intervention, the Summer Treatment Program for Pre-Kindergarteners (STP-PreK), in improving parenting outcomes. Using an open trial design, 154 parents and their preschool children (73% male;
M
age
= 5.06 years; 82% Hispanic/Latino background) with at-risk or clinically elevated levels of EBP (57% of which were referred by schools or mental health/medical professionals) completed a baseline and post-treatment assessment. A subsample of 90 families completed a follow-up assessment approximately 6 to 9 months after treatment completion. Parental measures of parenting stress and discipline strategies were collected across all three assessments. Observational data were also collected across all assessments during a 5-min standardized child-led play situation and a 5-min parent-led clean up task. The parenting component of the STP-PreK included a School Readiness Parenting Program (SRPP) of which the behavioral management component was implemented via a Parent-Child Interaction Therapy (PCIT) adaptation (8 weekly group sessions with 15–20 parents in each group, lack of requirement of "mastery" criteria). All parenting outcomes (both ratings and observed) significantly improved after the intervention (Cohen's
d
mean effect size across measures 0.89) with all effects being maintained at the 6–9 month follow-up. These findings highlight the initial promise of our SRPP's PCIT adaptation in targeting multiple aspects of parenting while yielding comparable parenting skills acquisition compared to traditional individual PCIT.