01-01-2011 | Uitgave 1/2011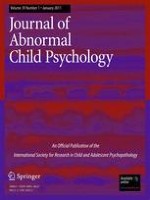 Structure and Etiology of Co-occurring Internalizing and Externalizing Disorders in Adolescents
Tijdschrift:
Auteurs:

Victoria E. Cosgrove, Soo H. Rhee, Heather L. Gelhorn, Debra Boeldt, Robin C. Corley, Marissa A. Ehringer, Susan E. Young, John K. Hewitt
Belangrijke opmerkingen
This work was supported by National Institutes of Health Grants MH43899, MH16880, HD10333, DA11015, DA13956, AA015336, and HD50346. Earlier versions of this paper were presented at the meeting of the Behavior Genetics Association on July 2, 2005 in Los Angeles, CA and the meeting of the World Congress of Psychiatric Genetics on October 17, 2005 in Boston, MA. We thank the participants who contributed their time to this project and the research assistants at the Institute for Behavioral Genetics for careful work in data collection, coding, and management.
Abstract
Several studies suggest that a two-factor model positing internalizing and externalizing factors explains the interrelationships among psychiatric disorders. However, it is unclear whether the covariation between internalizing and externalizing disorders is due to common genetic or environmental influences. We examined whether a model positing two latent factors, internalizing and externalizing, explained the interrelationships among six psychiatric disorders (major depressive disorder, generalized anxiety disorder, separation anxiety disorder, attention-deficit/hyperactivity disorder, oppositional defiant disorder, and conduct disorder) in adolescents, and whether there are common genetic and environmental influences on internalizing and externalizing latent factors. Multivariate behavior genetic analyses of data from 1162 twin pairs and 426 siblings ascertained from the general population via the Colorado Center for Antisocial Drug Dependence (CADD) were conducted. We found support for a model positing two latent factors (internalizing and externalizing). These factors were moderately heritable and influenced by significant common genetic and nonshared environmental influences. These findings suggest that co-occurrence of internalizing and externalizing psychopathology in adolescents results from both genetic and environmental influences.