24-01-2019 | Original Paper | Uitgave 5/2019 Open Access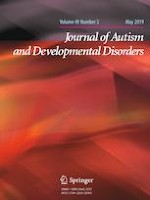 Stop Making Noise! Auditory Sensitivity in Adults with an Autism Spectrum Disorder Diagnosis: Physiological Habituation and Subjective Detection Thresholds
Tijdschrift:
Auteurs:

Marieke W. M. Kuiper, Elisabeth W. M. Verhoeven, Hilde M. Geurts
Belangrijke opmerkingen
Publisher's Note
Springer Nature remains neutral with regard to jurisdictional claims in published maps and institutional affiliations.
Abstract
Auditory sensitivities are common among people with autism spectrum disorder diagnoses (ASD). As underlying factors are unknown, we examined whether ASD adults (NASD = 33; NTypically Developing = 31; 25–45 years; IQ > 70): (1) habituated slower to auditory stimuli; (2) had lower auditory detection thresholds; and (3) whether these mechanisms related to self-reported auditory sensitivities. Two auditory stimuli (tone, siren) were repeated, whilst skin conductance responses were recorded to measure habituation. Detection thresholds were measured by stepwise reductions in tone volume. We found no evidence in favor of our hypotheses, but ASD adults did rate the auditory stimuli as more arousing. Based on explorative analyses, we argue that studying the strength of physiological responses to auditory stimuli is needed to understand auditory sensitivities.