18-11-2017 | Original Paper | Uitgave 4/2018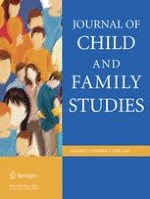 State Trust in Middle Childhood: An Experimental Manipulation of Maternal Support
Tijdschrift:
Auteurs:

Eva Vandevivere, Guy Bosmans, Sanne Roels, Adinda Dujardin, Caroline Braet
Belangrijke opmerkingen
Electronic supplementary material
Abstract
Attachment representations have traditionally been considered a stable trait, although evidence is found that attachment varies over time and situations conditional upon exposure to life-events and diverse contextual factors. This suggests that attachment consists of both trait and state like components. The current study aimed to evaluate if experiences with maternal support modulate children's state trust in mother's availability. For this purpose, we set up an experimental procedure. First, children watched a negative mood inducing video to activate negative emotions. In the following experimental phase, mothers were randomly assigned to one of three conditions. In condition one, mothers were instructed to provide secure base support to the distressed child. In the second condition, mother was only physically present and did not offer the child emotional support. In the last condition, children had no contact with mother. After this experimental phase, all mothers were instructed to provide secure base support in the recovery phase to study if secure base support could restore the decreased trust states. In total, 120 mother-child dyads participated the study. Results indicated that distressed children whose mother was absent or only physically available during the experimental phase, had significantly lower scores on state trust in comparison with children who did receive secure base support. After receiving secure base care, no more differences in state-trust across the secure base support and non-support conditions were found. Temperament could not explain these effects, pointing at the impact of interactions with a support providing mother on the activation of trust states.