01-10-2015 | Origineel artikel | Uitgave 5/2015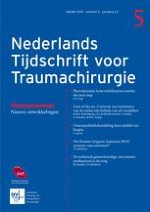 State of the art: Correctie van malunions van de radius met behulp van 3D-modellen
Tijdschrift:
Auteurs:

M.M.J. Walenkamp, R-J de Muinck Keizer, I. Dobbe, S. Strackee, N.W.L. Schep
Belangrijke opmerkingen
1 arts-onderzoeker, Trauma Unit, Academisch Medisch Centrum, Universiteit van Amsterdam, Amsterdam
2 afdeling Biomedical Engineering en Physics, Academisch Medisch Centrum, Universiteit van Amsterdam, Amsterdam
3 plastisch chirurg, afdeling Plastische en Reconstructieve Chirurgie, Academisch Medisch Centrum, Universiteit van Amsterdam, Amsterdam
4 traumachirurg, afdeling Chirurgie, Maasstad Ziekenhuis, Rotterdam
Samenvatting
Doel:
Het doel van een correctieosteotomie van een symptomatische malunion van de radius is het bereiken van anatomische reconstructie.
Achtergrond:
Een nauwkeurige preoperatieve planning van de ingreep is essentieel. Deze planning geschiedt gewoonlijk op basis van 2D-röntgenfoto's. Malunions van de radius betreffen echter veelal complexe driedimensionale deformaties, die onvoldoende op conventionele 2D-opnamen worden herkend. Wij presenteren een serie patiënten met een symptomatische malunion van de radius die werden behandeld met computergeassisteerde 3D-planningstechnieken.
Methode:
Met behulp van deze technieken werden virtuele en synthetische modellen van de malunion en het spiegelbeeld van de gezonde zijde gecreëerd. Daarnaast werden patiëntspecifieke zaag- en rotatiemallen vervaardigd voor intraoperatief gebruik. In totaal beschrijven wij acht patiënten (leeftijd 13-64 jaar) die drie extraarticulaire distale malunions en vijf diafysaire malunions hadden.
Resultaten:
Postoperatieve 3D-evaluatie toonde voor de meeste patiënten een (niet-significante) verbetering van de volaire kanteling, radiale inclinatie, radiale lengte en sagittale verplaatsing (volair/dorsaal). De rotatieafwijking om de as van de radius werd significant verbeterd door de ingreep (
p
= 0,05). Verplaatsing in het coronale vlak (ulnair/radiair) verslechterde juist bij de meeste patiënten. De klinische resultaten toonden een verbeterde range of motion bij zeven van de acht patiënten; de postoperatieve scores op de
Disability of the Arm Shoulder and Hand
(DASH) (mediaan 10,9; IQR: 2,8-27,2) en de
Patient-Rated Wrist Evaluation
(PRWE) (mediaan 18,5; IQR: 3,0-38,9) gaven een milde resterende invaliditeit aan.
Conclusie:
De resultaten van deze studie suggereren dat virtuele 3D-planning van correctieosteotomiën van radiale malunions leiden tot vermindering van de deformiteit, met name van de rotatieafwijking. Toekomstige verbetering van deze techniek is nodig om de overdracht van de geplande positie naar postoperatieve resultaten te optimaliseren.
Dit project wordt niet door externen gefinancierd.