2020 | OriginalPaper | Hoofdstuk
2. Stap 2: wat wil je meten?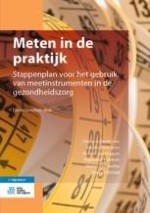 eerste hoofdstuk lezen
Auteurs: Harriët Wittink, Ilse Swinkels-Meewisse, Raymond Swinkels
Uitgeverij: Bohn Stafleu van Loghum
Samenvatting
In dit hoofdstuk bespreken we dat het essentieel is de concrete hulpvraag van de patiënt helder voor ogen te hebben: waarom wil je meten en wat wil je meten? De tweede stap gaat over wat je wilt meten. Hierbij gaat het om welke aspecten en domeinen van gezondheid of functioneren je wilt meten, zoals pijn, mobiliteit of kwaliteit van leven. Meerdere redenen bepalen wat je wilt meten, waarbij steeds de vraag van de patiënt het uitgangspunt is. Verschillende indelingen en modellen voor klinisch redeneren kunnen hierbij helpen, in dit boek wordt de ICF gebruikt als classificatievoorbeeld.