01-02-2011 | Uitgave 2/2011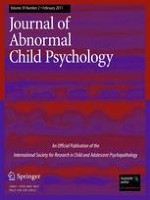 Stability of Early Identified Aggressive Victim Status in Elementary School and Associations with Later Mental Health Problems and Functional Impairments
Tijdschrift:
Auteurs:

Linnea R. Burk, Jeffrey M. Armstrong, Jong-Hyo Park, Carolyn Zahn-Waxler, Marjorie H. Klein, Marilyn J. Essex
Abstract
Aggressive victims—children who are both perpetrators and victims of peer aggression—experience greater concurrent mental health problems and impairments than children who are only aggressive or only victimized. The stability of early identified aggressive victim status has not been evaluated due to the fact that most studies of aggressor/victim subgroups have focused on preadolescents and/or adolescents. Further, whether children who exhibit early and persistent patterns of aggression and victimization continue to experience greater mental health problems and functional impairments through the transition to adolescence is not known. This study followed 344 children (180 girls) previously identified as socially adjusted, victims, aggressors, or aggressive victims at Grade 1 (Burk et al.
2008
) to investigate their involvement in peer bullying through Grade 5. The children, their mothers, and teachers reported on children's involvement in peer aggression and victimization at Grades 1, 3, and 5; and reported on internalizing symptoms, externalizing symptoms, inattention and impulsivity, as well as academic functioning, physical health, and service use at Grades 5, 7, and 9. Most children categorized as aggressive victims in Grade 1 continued to be significantly involved in peer bullying across elementary school. Children with recurrent aggressive victim status exhibited higher levels of some mental health problems and greater school impairments across the adolescent transition when compared to other longitudinal peer status groups. This study suggests screening for aggressive victim status at Grade 1 is potentially beneficial. Further early interventions may need to be carefully tailored to prevent and/or attenuate later psychological, academic, and physical health problems.