01-10-2007 | Original Article | Uitgave 5/2007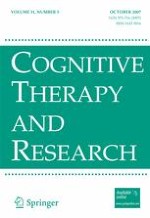 Specificity in the Relations among Childhood Adversity, Early Maladaptive Schemas, and Symptom Profiles in Adolescent Depression
Tijdschrift:
Auteurs:

Margaret N. Lumley, Kate L. Harkness
Belangrijke opmerkingen
This research was supported by a New Investigator Award from the Hospital for Sick Children Foundation (first author). We are very grateful to our adolescent participants for being forthcoming about their sometimes painful childhood experiences. We are grateful to the Child and Youth Wellness Centre of Leeds and Grenville, Hotel Dieu Hospital, and the Limestone District School Board for their collaboration in referring study participants. We also wish to thank Lisa Lee and Dr. Uzma Rehman for their thoughtful comments on earlier drafts of this manuscript. We are also grateful to Angela Digout-Erhardt, Laura Hewett, and Jennifer Laforce for helping with the clinical interviews, to Krista Bromley, Alanna Bruce, Angela Collins, Jorden Cummings, Nina Rytwinski, Pamela Seeds, and Bernadette Zackher for helping with the rating of childhood adversity and stressful life events, and to Michael Barnett-Cowan, Stephanie Cerutti, Pilsu-qua Lloyd, and Jonathan McGregor for participant scheduling and database management.
Abstract
The present cross-sectional study examined the relations of particular forms of childhood adversity (e.g., emotional maltreatment vs. physical abuse vs. sexual abuse) to specific early maladaptive schema themes (e.g., worthlessness/loss vs. danger) and symptom profiles (i.e., anhedonic vs. anxious). Seventy-six depressed adolescents retrospectively reported on their childhood experiences of emotional maltreatment, physical abuse, and sexual abuse in a contextual semi-structured interview. They were also administered the Young Schema Questionnaire to measure early maladaptive schemas, and the Mood and Anxiety Symptom Questionnaire to measure anhedonic and anxious symptomatology. Consistent with specificity hypotheses, schemas with themes of loss/worthlessness preferentially mediated the relation between childhood adversity and anhedonic symptoms, while schemas with themes of danger preferentially mediated the relation between childhood adversity and anxious symptoms. Sexual abuse was not significantly associated with either depression or anxiety symptoms and, thus, mediation models involving sexual abuse were not tested. Implications for fine-grained models of etiology in depression are discussed.