29-10-2019 | Artikelen | Uitgave 4/2019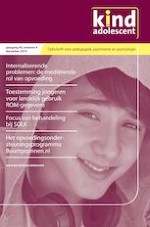 Somatisch Onvoldoende verklaarde Lichamelijke Klachten bij jongeren: wat wordt de focus van behandeling?
Tijdschrift:
Auteurs:

Drs. I. E. Visser, Drs. V. M. Zegers, Drs. H. L. van der Linde, Prof dr. E. de Haan
Samenvatting
Somatisch Onvoldoende verklaarde Lichamelijke Klachten (SOLK) komen veel voor bij jongeren, maar tot dusver is daar weinig onderzoek naar gedaan. Als er meer bekend is over de oorzaak kan er meer inzicht ontstaan in de werkzame factoren van de behandeling van SOLK binnen de geestelijke gezondheidszorg (ggz). In deze pilotstudie wordt onderzocht of experiëntiële vermijding en passieve coping bij pijn samenhangen met SOLK. Eenentwintig jongeren gediagnosticeerd met een somatisch-symptoomstoornis bij het Centrum voor Lichamelijk Onverklaarde Klachten (CLOK) van De Bascule (een academische instelling voor kind- en jeugdpsychiatrie) werden middels de Pain Response Inventory (PRI) en de Acceptance and Action Questionnaire-II‑7 (AAQ-II-7) vergeleken met 29 jongeren zonder SOLK geworven op drie scholen in Noord-Holland. De jongeren in de SOLK-groep blijken meer passieve coping en experiëntiële vermijding te gebruiken dan de jongeren in de controlegroep. Implicaties voor de klinische praktijk worden besproken om te komen tot een specifiekere behandeling voor jongeren met SOLK.