2011 | OriginalPaper | Hoofdstuk
13. Soft Tissue Injuries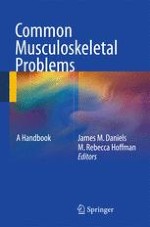 eerste hoofdstuk lezen
Auteurs: James M. Lynch, Sue Stanley-Green
Uitgeverij: Springer New York
Abstract
Injury to soft tissue encompasses a vast array of entities due to an assortment of mechanisms. The etiology of an injury can include physical, biological, thermal, metabolic, and chemical means. A sports medicine précis of soft tissue injuries includes sprains, strains, contusions, hematomas, and tendinitides. There are commonalities across this wide assortment of maladies however. The application of mechanical force to human tissue can cause one of two changes: a change in shape (deformation) or a change in velocity (deceleration or acceleration). If tissue tolerance is exceeded, a push can cause
contusions
,
hematomas
, and
fractures
while a pull results in
sprains
,
strains
, and
dislocations
. A large magnitude of force applied to tissue results in
macrotrauma
, such as sprains, strains, and crush injuries. Smaller forces that recur over long and/or repetitive sequences result in
microtrauma
, such as stress fractures and overuse syndromes.