01-12-2007 | Uitgave 6/2007 Open Access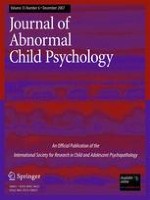 Sociometric Status and Social Drinking: Observations of Modelling and Persuasion in Young Adult Peer Groups
Tijdschrift:
Auteurs:

Sander M. Bot, Rutger C. M. E. Engels, Ronald A. Knibbe, Wim H. J. Meeus
Introduction
Materials and Methods
Results
Descriptive Statistics
A total of 122 males (57%) and 92 females (43%) were involved in the 28 groups we analysed. Group composition ranged from all males through all females to mixed gender groups, and participants were aged 18–28 years (M = 20.48; SD = 2.10). For age, no differences were found concerning alcohol consumption and amount of influence received or exerted, so age was left out of the subsequent analyses. On average, participants drank 16.83 (SD = 14.55) alcoholic drinks in the last week (the mean for Dutch students is 16 a week; Maalsté
2000
), and 2.77 (SD = 1.44) standard alcoholic drinks in our research setting. The average number of alcoholic consumptions offered to group members during the break was 1.07 (SD = 2.85).
Associations Between Sociometric Dimensions and Drinking Variables
Table
2
presents the correlations between the model variables. Sociability-Leadership (sociometric dimension 1) and Conformism (sociometric dimension 2) are negatively moderately correlated, whereas between sociometric dimension 1 and 3 (positive) and between sociometric dimension 2 and 3 (negative) small correlations exist. The three sociometric dimensions were not significantly related to reported and observed alcohol consumption and offers for drinks. Males reported higher weekly drinking levels in the questionnaire and drank more in the observed setting, but no significant gender differences existed concerning the amounts of offers for alcoholic drinks given as well as received. Weekly alcohol consumption is positively related to observed drinking and offering and being offered alcoholic drinks, but observed drinking is unrelated to offering and being offered alcohol. This could be an indication that offering drinks leads to convergence of drinking in a setting. Finally, offering drinks and being offered drinks are slightly positively related.
Table 2
Correlations between model variables
Dimension 1

Dimension 2

Dimension 3

Gender

Weekly consumption

Observed consumption

Offering alcohol

Social-Leader

Conformism

Impact

Social Leader

Conformism

−0.695**

Impact

0.152*

−0.267**

Gender

−0.014

0.126

−0.101

Weekly consumption

0.063

−0.114

0.017

−0.362**

Observed consumption

0.090

−0.107

0.021

−0.446**

0.342**

Offering alcohol

0.123

−0.114

−0.016

−0.100

0.183**

0.125

Being offered alcohol

0.067

−0.080

0.061

−0.105

0.238**

0.118

0.189**
Multilevel Analyses on Modelling and Persuasion of Observed Drinking
Discussion
The aim of this study was to examine the role of peer group members' sociometric status on influence exerted and received concerning alcohol consumption in a naturalistic setting. Other group members' reported and actual drinking levels predict individual drinking. Reported drinking accounts for a small but significant part of other group members' drinking, which means that young people's drinking habits actually influence others' drinking in a peer group setting. Within the setting individual drinking strongly predicts others' drinking, so it can be concluded that strong similarities exist in drinking within the situation, which can be partly explained by reported individual drinking. This supports the argument that peers are important in shaping the drinking of individuals into adulthood (see also Bartholew et al.
2003
), at least when together in a drinking setting. It is noteworthy that robust evidence was found for modelling but not for persuasion. An explanation for this difference can be that the effects from persuasion are stable over time and already reflected in the questionnaire data. That is, some individuals may be susceptible to persuasion from generally anyone, and usually there will be someone to play that role. The outcomes of modelling processes, on the other hand, might depend on the absolute drinking levels of those present in the drinking session and therefore lead to outcomes that were not reflected in the reported drinking.
Further, the sociometric status of peer group members does not predict variations between the amount of influence being exerted or received. This means that, even though adaptation in drinking takes place in groups, sociometric information does not add to the prediction regarding which members' drinking will most likely be a source of influence to others. In general, we have two possible explanations for these findings. The first is that sociometric status does make a difference, but no relations were found in this study. The second is that sociometric status does
not
make a difference concerning influence on drinking in groups.
Reasons for Lack of Findings concerning Sociometric Status: The Present Study
Third, the impact of people with a particular sociometric position may depend on the dyadic relation between the source of influence and the person being influenced. Different outcomes may, for example, be expected in the case where a popular person tries to persuade someone who does or does not like him or her (albeit that one cannot simply state that people who are not liked are of no importance in shaping behaviour); the dyadic evaluation of an influencer by a target of influence may be quite different from the total group's evaluation of this influencer.
Reasons for Lack of Findings concerning Sociometric Status: No Actual Relation
When looking more closely at the second explanation for the lack of findings related to sociometric status (i.e. that sociometric status does not make a difference concerning influence in drinking in our research groups), other explanations are possible. An example of why sociometric measures may be insufficient in predicting influence is that other processes play a role, together with sociometric status. For example, for group "political" reasons, certain individuals that may be well liked and even perceived as leaders in the group may not be followed when struggles concerning leadership occur. Also, group members may keep a balance when it comes to following others' behaviour, to maintain an equilibrium that each group member conceives as 'righteous.'
5
It may even be typical for friendship groups to not want to have strong leadership behaviour or to permit behaviour non-standard in the group; perhaps this even leads to the finding that attachment to friends has an effect on norm-breaking behaviour (Helsen et al.
1999
). As friendships are formed on the basis of equality, leadership tendencies may even be a threat to the continuity of friendships.
Another possibility is that adaptation in drinking within groups takes place at a very basic level, and sociometric status and dyadic relations play a very limited role. The drinking levels of people present in a 'wet' context may be adopted, unrelated to these persons' sociometric status or relations existing between members in the group. For example, Overbeek et al. (
2007
) found that, in a bar lab setting, best friends' drinking did not predict individual drinking more than that of other group members. Bruun (
1959
) found that group members are likely to adopt the drinking of the heaviest drinker in the group. This may indicate a strong influence of people in the situation (irrespective of the type of interrelations they have), or possibly characteristics of the situation itself, on individual drinking. The findings of observational research in public drinking places of Van de Goor (
1990
), who found effects from gender composition of the group, group size and music volume on drinking levels, confirms the contextual specificity of drinking levels. This line of reasoning may be substantiated by findings of Van de Beek (
2006
) who found that, within a drinking situation, alcohol consumption will be modelled mainly from the people involved in the same subgroup and activity.
Group members, triggered by relatively simple causes, such as one person who starts to drink quickly, an overall tendency to celebrate, or positive expectancies or evaluations of alcohol use, may contaminate each other when together in a situation where alcohol is available. Therefore, we might understand young people's drinking in existing social groups in terms of social drifts leading to heavy drinking in one group and limited drinking in another, instead of influence processes affected by variations of group members' social roles.
Limitations
Apart from the explanations given for modest findings, some weaknesses of our study should be stressed. At first, we studied our participants' drinking for only one hour. Capturing longer drinking sessions may give more insight into what makes people quit drinking after a few drinks, or contrarily, what makes them binge.
Also, we claim to have captured already existing similarities between group members in the actor effects. It is, however, possible that most of the influence took place in the past in these existing peer groups and therefore will not have been captured in this study. In that case, however, we would not have found significant partner effects, but we did. Consequently, our findings can be considered an addition to the literature of influence on current drinking and not one that allows claims on processes over time.
It can, as mentioned before, be questioned whether stronger influence processes in drinking can be expected in younger age groups. The young adults we studied may be at an age on which strong drinking habits already have developed and companions may not be making a large difference in the amounts of alcohol consumed. Also, for example, in the United States, different results may have been found, since drinking is illegal before the age of 21, and drinking in bars is less common among young adults. To allow generalising findings, such differences should be taken into account.
Conclusion
Pointing back to the introduction of this paper in which it was stated that researchers' attention concerning best friends' influence on alcohol consumption is disproportionate compared to that for the peer group, we stress that the findings in the present study do not rule out that friends may be very influential concerning drinking patterns, for instance, by inviting each other to drinking occasions, and may remain influential within the situation, but possibly this may only be because of the time they spend together.
These findings may have relevance for the prevention of drinking in young adults. Besides the often-studied best friends, peer group members, or more basically the ones present in a drinking situation, may strongly affect individual alcohol consumption. This means that it may be appropriate to teach young people to resist influence overall, rather than teaching them skills to resist influence from leading figures. It may also be advisable to teach young persons to be aware of the potential automatism at which influence processes take place. Not the acts of persuasion, but the (more automatic) modelling of drinking is important in shaping the individual's drinking in a peer group. This knowledge may help to find prevention programmes for binge drinking, in any case for the part that is caused by the influence the youngsters may only partly or totally be unaware of.
Acknowledgments
This study was supported by a fellowship of The Netherlands Organisation for Scientific Research to Rutger Engels. Address correspondence to: Sander M. Bot, Behavioural Science Institute, Radboud University Nijmegen, P.O. Box 9104, 6500 HE Nijmegen, The Netherlands.