06-03-2018 | Uitgave 8/2018 Open Access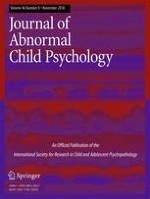 Socioeconomic Status and Psychopathic Traits in a Community Sample of Youth
Tijdschrift:
Auteurs:

Wendy Zwaanswijk, Mitch van Geel, Paul Vedder
Abstract
The current study aims to address socioeconomic status (SES) as a moderating variable between psychopathic traits and conduct problems in a sample of 2432 Dutch adolescents (
M
age
 = 14.50 years,
SD
 = 1.67, 56% male). Both family and neighborhood SES were measured, with income as a proxy for the level of SES. There were small but significant positive correlations between the behavioral and interpersonal dimensions of psychopathy and family SES, a small but significant negative correlation between the affective dimension and neighborhood SES, and a small and significant positive correlation between neighborhood SES and the behavioral dimension of psychopathy. Results further showed that the relations between youth psychopathic traits were moderated by neither family SES nor neighborhood SES. The results suggest that the relations between psychopathic traits and conduct problems are equally strong for lower and higher SES youth. Taken together, these findings warrant the conclusions that SES does not play a role as a moderator in the relation between psychopathy and conduct problems.