03-03-2020 | Uitgave 7/2020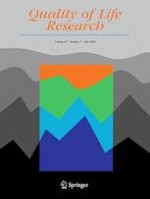 Socioeconomic burden and quality of life in meningioma patients
Tijdschrift:
Auteurs:

Hans-Georg Wirsching, Corinne Morel, Patrick Roth, Michael Weller
Belangrijke opmerkingen
Electronic supplementary material
Hans-Georg Wirsching and Corinne Morel have contributed equally to this work.
Publisher's Note
Springer Nature remains neutral with regard to jurisdictional claims in published maps and institutional affiliations.
Abstract
Purpose
Long-term impairment of quality of life (QoL) occurs in a subset of meningioma patients, even after curative surgical resection. We sought to explore socioeconomic burden of meningioma surgery and associations with post-operative QoL to identify patients at risk for inferior outcome.
Methods
All patients with histological diagnosis of an intracranial meningioma treated at a single institution 2000–2013 were screened for inclusion in this cross-sectional survey study. Surveys comprised tools to assess socioeconomic status including social deprivation, QoL and symptom burden. Multivariate binary regression models controlling for established prognostic factors were applied to explore associations of socioeconomics with QoL 1 year after surgery.
Results
Completed surveys were returned by 249 patients. The median age at diagnosis was 56 years (SD ± 12), 185 patients (74%) were female and 219 (88%) had World Health Organization grade I meningiomas. One year after surgery, there was a 20% decrease in the number of patients working (
p
 < 0.001), 22% of full-time working patients transitioned to part-time work (
p
 < 0.001) and more patients depended on professional care (14% versus 4%,
p
 < 0.001). Patients reported improved QoL, including improved global health (effect: 21%, 95% confidence interval [1] 15–26%), headaches (effect: 19%, CI 13–24%) and seizures (effect: 12%, CI 8–17%). On multivariable analyses, QoL after meningioma surgery was associated with preoperative employment status (odds ratio [OR] 0.41, 95% CI 0.17–0.98) and subjective work ability (OR 0.37, 95% CI 0.15–0.92).
Conclusion
In a subset of meningioma patients, there is marked socioeconomic burden, which may be associated with inferior patient-reported outcome.