01-12-2014 | Uitgave 6/2014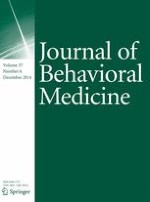 Social support mediates the association of health literacy and depression among racially/ethnically diverse smokers with low socioeconomic status
Tijdschrift:
Auteurs:

Diana W. Stewart, Lorraine R. Reitzel, Virmarie Correa-Fernández, Miguel Ángel Cano, Claire E. Adams, Yumei Cao, Yisheng Li, Andrew J. Waters, David W. Wetter, Jennifer Irvin Vidrine
Abstract
Nearly half of U.S. adults have health literacy (HL) difficulties, and lack the ability to effectively obtain, process, and understand health information. Poor HL is associated with depression, yet mechanisms of this relation are unclear. This study examined whether social support mediated the relation between HL and depressive symptoms in 200 low-socioeconomic status (SES), racially/ethnically diverse smokers enrolled in cessation treatment. Mediation analyses were conducted using bootstrapping and controlling for SES and nicotine dependence. In simple mediation models, social support [Interpersonal Support Evaluation List (ISEL) total, subscales (Appraisal, Belonging, Tangible)] mediated the effect of HL on depression, such that lower HL was associated with lower perceived support, which predicted higher depressive symptoms (
p
s < .05). A multiple mediation model, with ISEL subscales entered simultaneously as mediators, was significant (
p
< .05) but only the Belonging subscale demonstrating independent significance (
p
< .05). Thus, social support may be a critical factor underlying the HL–depression relationship in low-SES, racially/ethnically diverse smokers.