17-10-2016 | Original Article | Uitgave 2/2017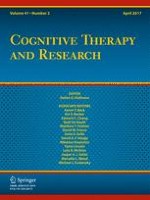 Social Anxiety Disorder is Associated with Reduced Eye Contact During Conversation Primed for Conflict
Tijdschrift:
Auteurs:

Julia K. Langer, Michelle H. Lim, Katya C. Fernandez, Thomas L. Rodebaugh
Belangrijke opmerkingen
The contents do not represent the views of the U.S. Department of Veterans Affairs or the United States Government.
Abstract
Eye contact is important for successful social interactions (e.g., Dalton et al. in Nat Neurosci 8:519–526,
2005
. doi:
10.​1038/​nn1421
), suggesting that gaze avoidance could be damaging for social functioning. Gaze avoidance has been proposed to relate to higher social anxiety (Schneier et al. in Compr Psychiatry 52:81–87,
2011
. doi:
10.​1016/​j.​comppsych.​2010.​04.​006
), yet studies utilizing behavioral observation have produced mixed findings (Farabee et al. in J Res Personal 27:365–376,
1993
. doi:
10.​1006/​jrpe.​1993.​1025
; Walters and Hope in Behav Ther. 29:387–407,
1998
. doi:
10.​1016/​S0005-7894(98)80039-7
; Weeks et al. in J Soc Clin Psychol 30:217–249,
2011
. doi:
10.​1521/​jscp.​2011.​30.​3.​217
). The goal of the current study was to clarify the mixed findings in the literature utilizing a clinical sample. Participants completed interactions with another participant. We assessed eye contact using independent coding. Participants with social anxiety disorder made lower levels of eye contact relative to participants without social anxiety disorder during a conversation primed for conflict. Integrating these findings with previous work, we theorize that social anxiety relates to eye contact when there is an impairing level of social anxiety and the interaction is primed for conflict.