01-10-2011 | Beschouwing | Uitgave 10/2011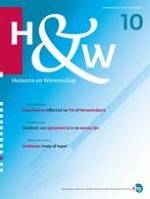 Sneltests: hoop of hype?
Tijdschrift:
Auteurs:

dr. J.W.L. Cals, prof.dr. H.C.P.M. van Weert
Belangrijke opmerkingen
huisarts in opleiding en post-doc onderzoeker
hoogleraar Huisartsgeneeskunde
Samenvatting
Cals JWL, Van Weert HCPM. Sneltests: hoop of hype? Huisarts Wet 2011;54(10):543-7.
Sneltests zijn biomedische tests die de huisarts verricht op patiëntenmateriaal, zoals bloed, urine en feces. Het gebruik van deze veelal nieuwe tests in de huisartsenpraktijk neemt toe. Sneltests vergroten het diagnostisch arsenaal van de huisarts. Maar dragen ze ook altijd bij aan een doelmatige en kwalitatief goede diagnostiek? We presenteren een lijstje met criteria aan de hand waarvan richtlijnmakers, regionale organisaties en individuele huisartsen een nieuwe sneltest in de praktijk kunnen toetsen. Het gaat daarbij niet louter om uitvoeringsen kwaliteitscriteria. De sneltest dient in de juiste populatie voor de juiste indicaties te zijn geëvalueerd. En dan moeten we ons ook houden aan die indicaties – verbreding van het indicatiegebied ligt immers steeds op de loer, met een ongewild risico op foutpositieve en foutnegatieve testuitslagen. Bij problemen in de vergoedingensfeer en om kwaliteitscontrole te garanderen kunnen lokale klinischchemische laboratoria mogelijk een rol spelen.