01-06-2020 | Wetenschappelijk artikel | bijlage 1/2020 Open Access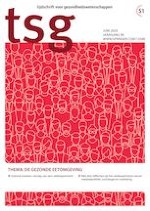 Snacks and the City
Hoe een veldexperiment naar gezond snacken onze aannamen over de juiste snack op de juiste plaats op de proef stelt
Tijdschrift:
Auteurs:

Denise de Ridder, Caroline Schlinkert, Marleen Gillebaart, Maartje Poelman, Jeroen Benjamins
Samenvatting
Veel mensen willen graag gezond snacken, maar vinden het lastig om dit voornemen in de praktijk te brengen. Dat komt omdat ze voortdurend geconfronteerd worden met ongezonde snacks als ze op weg zijn naar school, werk of andere activiteiten. In het project
Food in Motion
hebben we onderzocht of gezond snacken gemakkelijker wordt door het aanbieden van aantrekkelijke en toch gezonde snacks op tijden en plaatsen waar mensen geregeld ongezond snacken. Met het global positioning system (GPS) hebben we eerst in kaart gebracht wat 'gevaarlijke' tijden en plaatsen zijn voor ongezond snacken. Vervolgens is op basis van een groot onderzoek onder meer dan duizend mensen een nieuwe aantrekkelijke snack ontwikkeld, die voldeed aan de richtlijnen voor gezonde voeding. Deze snack (een klein fruit- of groentetaartje) werd gedurende drie maanden aangeboden vanuit een kleine food truck op het stationsplein in Utrecht. De verkoopcijfers vielen tegen, ondanks de grote waardering van het publiek voor de snack en de gekozen plek om te verkopen. We geven een aantal mogelijke verklaringen voor de tegenvallende verkoopcijfers.