01-09-2007 | ORIGINAL PAPER | Uitgave 8/2007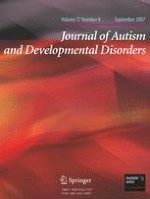 Slowing Down Presentation of Facial Movements and Vocal Sounds Enhances Facial Expression Recognition and Induces Facial–Vocal Imitation in Children with Autism
Tijdschrift:
Auteurs:

Carole Tardif, France Lainé, Mélissa Rodriguez, Bruno Gepner
Abstract
This study examined the effects of slowing down presentation of facial expressions and their corresponding vocal sounds on facial expression recognition and facial and/or vocal imitation in children with autism. Twelve autistic children and twenty-four normal control children were presented with emotional and non-emotional facial expressions on CD-Rom, under audio or silent conditions, and under dynamic visual conditions (
slowly, very slowly, at normal speed
) plus a static control. Overall, children with autism showed lower performance in expression recognition and more induced facial–vocal imitation than controls. In the autistic group, facial expression recognition and induced facial–vocal imitation were significantly enhanced in slow conditions. Findings may give new perspectives for understanding and intervention for verbal and emotional perceptive and communicative impairments in autistic populations.