01-04-2017 | Beschouwing | Uitgave 4/2017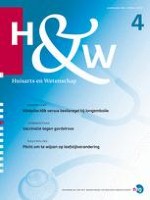 SLIMMER diabetes voorkomen in de eerste lijn
Tijdschrift:
Auteurs:

Geerke Duijzer, Annemien Haveman-Nies, Sophia Jansen, Josien ter Beek, Rykel van Bruggen, Martin Willink
Belangrijke opmerkingen
Wageningen Universiteit, Afdeling Humane Voeding, Academische Werkplaats AGORA: dr. G. Duijzer, onderzoeker; dr. A. Haveman-Nies, universitair hoofddocent; prof.dr. E.J.M. Feskens, hoogleraar voeding en gezondheid in de levenscyclus. GGD Noord- en Oost-Gelderland, Warnsveld: ir. S.C. Jansen, epidemioloog; ir. J. ter Beek, functionaris gezondheidsbevordering; dr. G. Duijzer, epidemioloog; dr. A. Haveman-Nies, epidemioloog. Huisartsenzorg Regio Apeldoorn, Apeldoorn: dr. R. van Bruggen, huisarts. BV Diabeteszorg Oude IJssel, Doetinchem: M.G.J. Willink, kaderhuisarts diabetes mellitus. Wageningen Universiteit, Strategische Communicatie Groep (Sub-departement Communication, Philosophy and Technology CPT-CID), Wageningen: prof.dr. G.J. Hiddink, hoogleraar voedingscommunicatie via intermediairen • Correspondentie: geerke.duijzer@wur.nl •
De rest van de literatuurlijst staat onderaan het artikel op
www.​henw.​org
.
Samenvatting
Duijzer G, Haveman-Nies A, Jansen SC, Ter Beek J, Van Bruggen R, Willink MGJ et al. SLIMMER diabetes voorkomen in de eerste lijn. Huisarts Wet 2017;60(4):160-3.
De prevalentie van diabetes is de afgelopen jaren flink gestegen. Onderzoek toont aan dat leefstijlverandering diabetes mellitus type 2 bij hoogrisicopatiënten kan uitstellen of voorkomen. De implementatie en effectiviteit van preventieprogramma's in de praktijk blijft echter een uitdaging vanwege de noodzakelijke aanpassing aan de lokale context en beperkte (financiële) middelen. Omdat in Nederland nog geen effectief diabetespreventieprogramma voor de eerste lijn bestond, is het SLIMMER-programma ontwikkeld. SLIMMER is een gecombineerde leefstijlinterventie waarbij mensen gedurende tien maanden begeleid worden om gezonder te gaan eten en meer te bewegen. In deze beschouwing bespreken we de effectiviteit van het SLIMMER-programma in de eerste lijn en vergelijken we die met de bevindingen van andere implementatieonderzoeken op dit terrein. We hebben de effectiviteit van het SLIMMER-programma onderzocht door middel van een gerandomiseerd gecontroleerd onderzoek. SLIMMER blijkt te leiden tot verbeteringen in klinische en metabole risicofactoren, voedinginname, beweging en kwaliteit van leven. Daarbij waren klinische effecten van ons programma groter dan die van de meeste andere preventieprogramma's. Dit kan komen door de gedegen voorbereiding, het intensieve programma, het onderhoudsprogramma en aansluiting bij de reguliere werkwijze van eerstelijnszorgverleners. De resultaten van dit onderzoek bieden waardevolle inzichten die kunnen bijdragen aan structurele verankering en financiering van effectieve diabetespreventieprogramma's in de Nederlandse eerste lijn.