28-07-2020 | Original Article | Uitgave 3/2021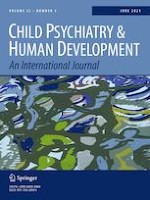 Sleep Problems of Children with Autism May Independently Affect Parental Quality of Life
Tijdschrift:
Auteurs:

Ruiting Liu, Huixi Dong, Ying Wang, Xiaozi Lu, Yamin Li, Guanglei Xun, Jianjun Ou, Yidong Shen, Kun Xia, Jingping Zhao
Belangrijke opmerkingen
Electronic supplementary material
Ruiting Liu and Huixi Dong have contributed equally to this work.
Publisher's Note
Springer Nature remains neutral with regard to jurisdictional claims in published maps and institutional affiliations.
Abstract
The current study explored how and to what extent sleep problems in children with autism spectrum disorder (ASD) impacted their parents' quality of life (QOL). A total of 440 ASD children and 344 age-matched typically developing (TD) children were included in the case–control designed study. In the TD group, a linear regression model showed that the Children's Sleep Habits Questionnaire (CSHQ) total scores were negatively associated with maternal mental health summary (MCS) scores in the SF-36v2 (β = − 2.831), while in the ASD group, the CSHQ total scores were negatively associated with the parental physical health summary (PCS) scores (β = − 3.030 for mothers, β = − 3.651 for fathers). Path analysis showed that sleep problems in ASD children had both direct and indirect effects on maternal PCS scores. The results indicated that sleep problems in children with ASD might affect parental QOL differently from TD children, and act as independent impact factors on parental physical health.