01-03-2014 | Uitgave 2/2014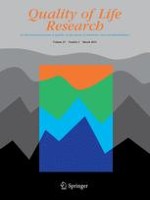 Sleep characteristics and health-related quality of life among a national sample of American young adults: assessment of possible health disparities
Tijdschrift:
Auteurs:

Xiaoli Chen, Bizu Gelaye, Michelle A. Williams
Abstract
Purpose
The aim of the study is to examine the associations of sleep characteristics with health-related quality of life (HRQOL) and sleep health disparities among US young adults using national survey data.
Methods
The study sample consisted of 2,391 young adults aged 20–39 years from the National Health and Nutrition Examination Survey 2005–2008. HRQOL was assessed using the Centers for Disease Control and Prevention's HRQOL-4 scale. Multivariable logistic regression models were applied to evaluate the sleep–HRQOL associations. Stratified analyses were conducted to examine whether the associations varied by sociodemographic characteristics.
Results
Approximately 35.6 % of young adults slept <7 h, 41.9 % had insomnia, 4.4 % had sleep disorder, and 8.5 % had sleep apnea. More females had insomnia than males (48.6 vs. 35.9 %,
P
< 0.001). US-born young adults had more sleep disturbances than their foreign-born counterparts. Compared with those sleeping 7–8 h, the adjusted odds ratio of poor general health was 1.60 (95 % confidence interval, 1.08–2.35) for individuals sleeping 6–7 h and 1.88 (1.23–2.86) for those sleeping <6 h. Similar results were found for low mental HRQOL and overall HRQOL. Insomnia, long sleep latency, troubling falling asleep, daytime sleepiness, and frequent sleeping pill use were significantly associated with low mental HRQOL and overall HRQOL. The associations between sleep disturbances and low HRQOL varied little by sex, race/ethnicity, and country of birth.
Conclusions
Sleep disturbances are common among US young adults and are significantly associated with low HRQOL. Objective measures of sleep are warranted to confirm our findings.