15-05-2019 | Original Article | Uitgave 6/2019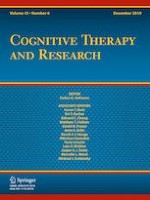 Should I Keep It? Thoughts Verbalized During a Discarding Task
Tijdschrift:
Auteurs:

Christiana Bratiotis, Gail Steketee, JoAnn Dohn, Carole A. Calderon, Randy O. Frost, David F. Tolin
Belangrijke opmerkingen
Publisher's Note
Springer Nature remains neutral with regard to jurisdictional claims in published maps and institutional affiliations.
Abstract
An essential criterion for hoarding disorder (HD) is difficulty parting with possessions, but relatively little research has been conducted on responses by people with HD during actual efforts to discard objects. Frost et al. (Behav Res Therapy 85:13–22, 2016) reported quantitative findings from a discarding task comparing those with HD to community control participants without significant hoarding symptoms (CC) on discarding behavior. The present study used qualitative data analysis of the verbal statements made by HD and CC participants while talking aloud about whether to discard or keep a personal object of low monetary value. Data were coded and analyzed using Atlas.ti software via an iterative process in order to examine thoughts reported during decision-making. Findings indicated that participants made more comments about reasons for saving than discarding and that HD participants reported more reasons to save and fewer reasons to discard than did CC participants. They also voiced more thoughts about emotions, both negative and positive, than did controls, especially for anxiety, anger and guilt and general distress. HD participants expressed more ambivalence about discarding compared to controls. Findings are discussed in relation to the cognitive and behavioural model for hoarding, previous findings regarding reasons for saving, and treatment implications.