01-04-2015 | Uitgave 2/2015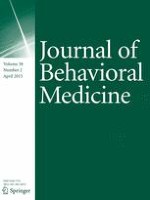 Shared versus specific features of psychological symptoms and cigarettes per day: structural relations and mediation by negative- and positive-reinforcement smoking
Tijdschrift:
Auteurs:

Katherine J. Ameringer, Chih-Ping Chou, Adam M. Leventhal
Abstract
This study examined the extent to which shared versus specific features across multiple manifestations of psychological symptoms (depression, anxiety, ADHD, aggression, alcohol misuse) associated with cigarettes per day. Subsequently, we investigated whether negative- (i.e., withdrawal relief) and positive- (i.e., pleasure enhancement) reinforcement smoking motivations mediated relations. Adult daily smokers (
N
= 338) completed self-report measures and structural equation modeling was used to construct a 3-factor (low positive affect-negative affect-disinhibition) model of affective and behavioral symptoms and to test relations of each latent factor (shared features) and indicator residual (specific features) to smoking level. Shared dimensions of low positive affect, negative affect, and disinhibition associated with smoking rate. Negative-reinforcement smoking mediated the link between latent negative affect and heavier daily smoking. Specific features of psychological symptoms unique from latent factors were generally not associated with cigarettes per day. Features shared across several forms of psychological symptoms appear to underpin relations between psychological symptoms and smoking rate.