15-08-2015 | Original Article | Uitgave 1/2016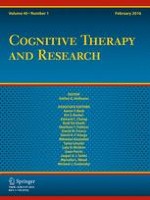 Shared and Distinct Cognitive/Affective Mechanisms in Intrusive Cognition: An Examination of Worry and Obsessions
Tijdschrift:
Auteurs:

Richard J. Macatee, Nicholas P. Allan, Agnieszka Gajewska, Aaron M. Norr, Amanda Medley Raines, Brian J. Albanese, Joseph W. Boffa, Norman B. Schmidt, Jesse R. Cougle
Abstract
Generalized anxiety disorder and obsessive–compulsive disorder are defined by chronic intrusive thoughts. The aim of the present study was to evaluate the relationship between cognitive (attentional control) and motivational (negative urgency) mechanisms potentially underlying worry and obsessions. Participants (
N
= 526) completed an online questionnaire battery consisting of self-report measures of worry, OCD symptoms, attentional control (AC), negative urgency (NU), and trait negative affect. After controlling for trait negative affect, self-reported AC was negatively related to worry, repugnant obsessions, and ordering symptoms. Greater NU was associated with increased worry and repugnant obsessions. Further, self-reported AC and NU interacted such that greater NU was associated with greater worry at high but not low levels of AC. AC and NU were independently associated with repugnant obsessions. Perceived executive functioning impairments may confer risk for intrusive thoughts, particularly worries, whereas distress-driven impulsivity may contribute to the involuntary, ego-dystonic features of intrusions.