01-04-2010 | Uitgave 3/2010 Open Access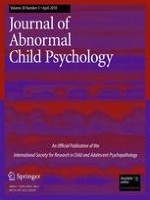 Serious, Minor, and Non-Delinquents in Early Adolescence: The Impact of Cumulative Risk and Promotive Factors. The TRAILS Study
Tijdschrift:
Auteurs:

André M. van der Laan, René Veenstra, Stefan Bogaerts, Frank C. Verhulst, Johan Ormel
Belangrijke opmerkingen
This research is part of the TRacking Adolescents' Individual Lives Survey (TRAILS). Participating centers of TRAILS include various departments of the University Medical Center and University of Groningen, the Erasmus University Medical Center Rotterdam, the University of Utrecht, the Radboud Medical Center Nijmegen, and the Trimbos Institute, all in the Netherlands. Principal investigators are Prof. Dr. J. Ormel (University Medical Center Groningen) and Prof. Dr. F.C. Verhulst (Erasmus University Medical Center). TRAILS has been financially supported by various grants from the Netherlands Organization for Scientific Research NWO (Medical Research Council program grant GB-MW 940-38-011; ZonMW Brainpower grant 100-001-004; ZonMw Risk Behavior and Dependence grant 60-60600-97-118; ZonMw Culture and Health grant 261-98-710; Social Sciences Council medium-sized investment grant GB-MaGW 480-01-006 and project grants GB-MaGW 457-03-018 and GB-MaGW 452-04-314; NWO large-sized investment grant 175.010.2003.005); the Sophia Foundation for Medical Research (projects 301 and 393), the Dutch Ministry of Justice (WODC), and the participating universities. We are grateful to all adolescents, their parents and teachers who participated in this research and to everyone who worked on this project and made it possible. We want to thank the editor and the anonymous reviewers for their helpful comments on previous versions of the manuscript.
Abstract
This study uses a social-ecological approach to the development of delinquency. The authors emphasize that a balance between eliminating risk and enhancing protection across domains is essential in reducing problems and promoting competence. The cumulative risk and promotive effects of temperament, family and school factors in preadolescence were examined on different groups of delinquents (based on self-report) in early adolescence. Data from the first two waves of the TRAILS study (
N
 = 2,230) were used. The results provide evidence for a compensatory model that assumes main effects of risk and promotive factors on problem behavior. Accumulation of risks in preadolescence promoted being a serious delinquent in early adolescence, with the strongest effects for temperament. Accumulation of promotive effects decreased being a delinquent and supported being a non-delinquent. Furthermore, evidence is found for a counter-balancing effect of cumulative promotive and risk factors. Exposure to more promotive domains in the relative absence of risk domains decreased the percentage of serious delinquents. Our results did not support a protective model. Implications for prevention and intervention are discussed.