01-10-2016 | Uitgave 7/2016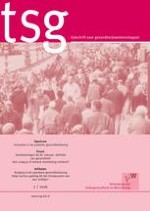 Serious gaming voor het vergroten van de adherentie van fysiotherapeuten en manueel therapeuten aan de richtlijn lage rugpijn
Een gerandomiseerde gecontroleerde studie
Tijdschrift:
Auteurs:

Dr. Bart Staal, Inge van Haren, Marjo Maas, Henri Kiers, Ria Nijhuis-van der Sanden, Victorine de Graaf-Peters
Belangrijke opmerkingen
Dr. J. Bart Staal, Lectoraat Musculoskeletale Revalidatie, Hogeschool van Arnhem en Nijmegen, Postbus 6960, 6500 GL Nijmegen, tel: 024-3531191, e-mail: bart.staal@han.nl
1
Faculteit Gezondheid, Gedrag en Maatschappij, Hogeschool van Arnhem en Nijmegen, Nijmegen en IQ healthcare, Radboudumc, Nijmegen
2
IQ healthcare, Radboudumc, Nijmegen
3
Instituut voor Bewegingsstudies, Faculteit Gezondheidszorg, Hogeschool Utrecht, Utrecht
4
Institute for Life Science and Technology, Hanze University Groningen, Groningen
Samenvatting
Fysiotherapie en/of manuele therapie spelen een belangrijke rol in de zorg voor mensen met lage rugpijn. Om de kwaliteit van deze zorg te verbeteren is een richtlijn ontwikkeld die vervolgens geïmplementeerd dient te worden. Technologische innovaties zoals serious games kunnen een rol spelen bij de implementatie van deze richtlijn. In een gerandomiseerde gecontroleerde studie is onderzocht in hoeverre een serious game de implementatie van een richtlijn lage rugpijn bevorderd. Achtenveertig fysiotherapeuten/manueel therapeuten zijn at random toegewezen aan een serious game groep of een groep die voorlichting kreeg over de richtlijn. Uitkomstmaten in deze studie zijn de mate van adherentie aan de richtlijn (vignettentoets), ervaren knelpunten van implementatie, de mening van de deelnemer over de wijze van implementeren, en de mate waarin de richtlijn is gelezen en wordt toegepast in de praktijk naar eigen inschatting van de deelnemer. Na zes weken follow-up is er geen significant effect gevonden van de serious game op de mate van adherentie aan de richtlijn (0,4 punten op 100 puntsschaal; 95% betrouwbaarheidsinterval -4,0 tot 4,8) ten opzichte van de voorlichtingsgroep. Ook voor de andere uitkomsten werden geen statistisch significante effecten gevonden. Het introduceren van een serious game had derhalve geen groter effect op de mate van adherentie aan de richtlijn lage rugpijn dan voorlichting.