01-06-2006 | Uitgave 3/2006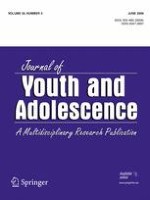 Self-Silencing and Rejection Sensitivity in Adolescent Romantic Relationships
Tijdschrift:
Auteurs:

Melinda S. Harper, Joseph W. Dickson, Deborah P. Welsh
Belangrijke opmerkingen
Melinda S. Harper Assistant professor of psychology at Queens University of Charlotte, North Carolina. Her areas of interest include adolescent romantic relationships, psychodynamic therapy, and personality characteristics. Research interests include self-silencing behaviors in adolescents' romantic and peer relationships, adolescents' experiences of being alone and its association with relational and psychological well-being
MA, Doctoral candidate at the University of Tennessee in Knoxville, Tennessee. His areas of interest include power, communication, and gender attitudes in adolescent romantic relationships
Associate Professor of Psychology at the University of Tennessee, Knoxville, TN. She earned her doctorate in clinical psychology from the University of Massachusetts, Amhurst, Massachusetts. Her areas of interest include the development of adolescent romantic relationships and adolescents' interactions
This study examined the link between rejection sensitivity, self-silencing behaviors, and depressive symptomatology among adolescent dating couples. Self-silencing was hypothesized to be the process mediating the association between rejection sensitivity and depressive symptoms. Our sample included 211 couples between 14 and 21 who were dating at least 4 weeks. Results indicated that dating adolescents who were sensitive to rejection reported more depressive symptomatology and higher levels of self-silencing behaviors within their romantic relationship compared to dating adolescents who were not so sensitive to rejection. Self-silencing was identified as a partial mediator of the association between rejection sensitivity and depressive symptomatology among dating adolescents. Clinical implications in light of these findings are discussed.