01-08-2015 | ORIGINAL PAPER | Uitgave 4/2015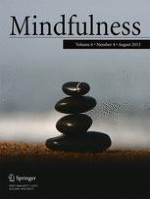 Self/Other Referential Processing Following Mindfulness and Loving-Kindness Meditation
Tijdschrift:
Auteurs:

Kyle Logie, Paul Frewen
Abstract
The immediate outcomes of mindfulness meditation (MM) and loving-kindness meditation (LKM) on experimental measures of explicit and implicit self- and other-referential processing (SRP-ORP) have not been investigated previously. In this study, undergraduate students (
n
 = 104) were randomized to a single-session practice of MM, LKM, or reading control and completed self-report measures of decentering and positive affect directed toward self and other. Participants also completed an experimental measure of valenced SRP-ORP. Practice of both meditations was associated with increased decentering and positive affect relative to reading control, although self-reported response to MM and LKM did not significantly differ. Following the meditation, whereas participants randomized to MM evidenced an expected self-positivity bias in positive affective response and reaction time during an experimental SRP-ORP task, participants randomized to LKM did not. LKM, as uniquely involving the intentional cultivation of positive emotion toward both self and other, may be associated with a relative normalization of the self-positivity bias. Individual differences in response to SRP-ORP were also examined as a function of traits related to mindfulness and loving-kindness, in addition to as a function of variability in experiential response to MM and LKM. Study limitations and future research directions are also discussed.