01-05-2007 | Original Paper | Uitgave 4/2007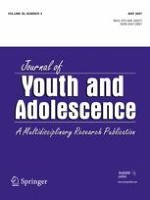 Self-Esteem Enhancing Reasons for Having Sex and The Sexual Behaviors of African American Adolescents
Tijdschrift:
Auteurs:

Melissa L. Robinson, Grayson N. Holmbeck, Roberta Paikoff
Belangrijke opmerkingen
Doctoral candidate in the Clinical Psychology Program at Loyola University Chicago. She received her Master of Arts from Loyola University Chicago in Clinical Psychology. Her research interests are in HIV/AIDS prevention in African American communities, particularly amongst adolescent girls.
Professor of Clinical Psychology and Director of Clinical Training at Loyola University. He received his Ph.D. in Clinical Psychology from Virginia Commonwealth University. His interests lie in family relations during early and late adolescence, developmental psychopathology, the interface between developmental psychology and clinical child psychology, pediatric psychology (e.g., adolescents with physical disabilities), statistical applications in psychology, and research design.
Associate Professor of Psychology in Psychiatry at the University of Illinois at Chicago. She received her Ph.D. in Child Psychology from the University of Minnesota at Minneapolis Her research interests lie in normative developmental processes during the transition to adolescence.
Abstract
A sample of 146 African American adolescents living in impoverished neighborhoods with high HIV rates participated in the Chicago HIV Prevention and Adolescent Mental Health Project (CHAMP), a longitudinal study of adolescent HIV risk exposure. The current study examined self-reported reasons why African American adolescents may participate in risky sexual behavior. Adolescents completed a questionnaire regarding their sexual behaviors and reasons for having sex at Wave 3 of data collection. Findings from the study revealed that females used condoms less consistently while males had more sexual partners and sexually debuted earlier. Regression analyses also indicated that males were more likely to endorse self-esteem enhancing reasons for having sex and those who did also reported a higher number of sexual partners. Males were more likely to endorse power-related reasons for having sex and those who did tended to sexually debut earlier. Across both genders, results suggested that those adolescents who endorsed more self-esteem enhancing reasons for having sex were less likely to use condoms consistently. Implications for prevention programs and future research are discussed.