01-02-2014 | Uitgave 1/2014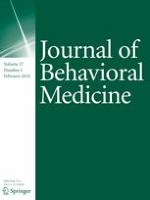 Self-control and its relation to emotions and psychobiology: evidence from a Day Reconstruction Method study
Tijdschrift:
Auteurs:

M. Daly, R. F. Baumeister, L. Delaney, M. MacLachlan
Abstract
This study aimed to ascertain whether self-control predicts heart rate, heart rate variability, and the cortisol slope, and to determine whether health behaviors and affect patterns mediate these relationships. A sample of 198 adults completed the Self-Control Scale (Tangney in J Pers 72:271–322,
2004
), and reported their exercise levels, and cigarette and alcohol use. Participants provided a complete account of their emotional experiences over a full day, along with morning and evening salivary cortisol samples and a continuous measure of cardiovascular activity on the same day. High trait self-control predicted low resting heart rate, high heart rate variability, and a steep cortisol slope. Those with high self-control displayed stable emotional patterns which explained the link between self-control and the cortisol slope. The self-controlled smoked less and this explained their low heart rates. The capacity to sustain stable patterns of affect across diverse contexts may be an important pathway through which self-control relates to psychophysiological functioning and potentially health.