Gepubliceerd in: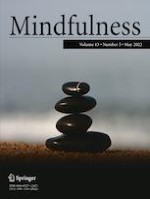 22-01-2022 | REVIEW
Self-compassion, Health Behaviors, Self-regulation, and Affective States Among Individuals at Risk of or Diagnosed with a Chronic Disease: a Scoping Review
Gepubliceerd in: Mindfulness | Uitgave 5/2022
Log in om toegang te krijgen
Abstract
Objectives
Health behavior engagement reduces adverse events associated with chronic disease. Self-regulating health behaviors is challenging; individuals are further at a disadvantage due to the experience of unpleasant affective states after chronic disease diagnosis. Self-compassion (SC)—an orientation to care for oneself during challenging times—may reduce the experience of difficult affective states and facilitate health behavior self-regulation. This study's aim was to systematically explore SC's relationship with affective states, health behavior engagement, and self-regulation among individuals living with a chronic disease.
Methods
We conducted a scoping review from six databases. Eligible studies included adults diagnosed with cancer, diabetes, cardiovascular disease (CVD), or respiratory disease; utilized a SC intervention, prospective or cross-sectional design; were written in English; investigated affective states, health behaviors, and/or self-regulation; and used a validated SC scale.
Results
Thirty-seven articles (
N
 = 7,141 participants) were included in the review. SC was positively associated with health behavior engagement and adaptive cognitive emotional regulation in all included chronic diseases (except respiratory disease). SC was negatively associated with unpleasant affective states in the context of all included chronic diseases. Preliminary results indicate SC interventions may lead to decreases in unpleasant affective states among individuals diagnosed with cancer, diabetes, and CVD. No research has examined SC and behavior self-regulation.
Conclusions
This review highlights the potential psychological and physical benefits of SC for individuals diagnosed with a chronic disease. More research is needed to understand the role of SC among individuals diagnosed with a chronic disease.