07-01-2021 | REVIEW | Uitgave 5/2021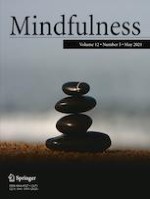 Self-Compassion and Current Close Interpersonal Relationships: a Scoping Literature Review
Tijdschrift:
Auteurs:

Christine R. Lathren, Sanjana S. Rao, Jinyoung Park, Karen Bluth
Belangrijke opmerkingen
Supplementary Information
Publisher's Note
Springer Nature remains neutral with regard to jurisdictional claims in published maps and institutional affiliations.
Abstract
Objectives
In order to provide a broad overview of the body of peer-reviewed literature on self-compassion and close relationships, this scoping review describes how self-compassion relates to thoughts, feelings, and behaviors within the context of current personal relationships between family members, romantic partners, friends, or others referred to as "close."
Methods
Two reviewers independently screened peer-reviewed articles retrieved based on a defined search strategy within three online databases, extracted data from 72 articles that met inclusion criteria by consensus, and summarized findings thematically.
Results
With few exceptions, self-compassion is positively associated with secure attachment, adaptive parenting behaviors, healthy family, romantic and friendship functioning, and constructive conflict and transgression repair behavior. In families, evidence suggests that parent self-compassion is linked to supportive parenting behavior, which is in turn linked to higher levels of child self-compassion.
Conclusions
Self-compassion is associated with a wide variety of close interpersonal relationship benefits. These associations may be complex and bidirectional, such that positive social relationships promote self-compassion, while self-compassion promotes relational and emotional well-being. For a deeper understanding of these nuances and to establish causality, future research should include heterogeneous samples, longitudinal designs, and observational and multi-informant methodologies, and consider attachment style and personality trait covariates. The potential implications for interventional research are discussed.