22-04-2016 | Artikel | Uitgave 4/2016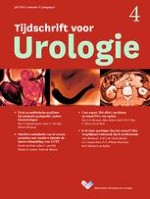 Selectieve embolisatie van de arteria prostatica met curatieve intentie als nieuwe behandeling voor LUTS
Tijdschrift:
Auteurs:

drs. Linette van Duijn, dr. Lukas C. van Dijk, Bhaskar K. Somani, dr. Stefan M. Haensel
Samenvatting
De transurethrale resectie van de prostaat (TURP) wordt beschouwd als de gouden standaard bij operatieve behandeling voor LUTS ten gevolge van benigne prostaathyperplasie. Deze behandeling kan echter gepaard gaan met een significante morbiditeit, dient onder regionale of algehele anesthesie plaats te vinden en is gecontra-indiceerd bij patiënten met een vitale antistollingsindicatie. Sinds enkele jaren wordt daarom embolisatie van de arteria prostatica (PAE) toegepast als electieve behandeling voor LUTS. Op basis van een literatuurstudie wordt in dit artikel de techniek en de resultaten tot nu toe beschreven.
Op de lange termijn is de procedure bij 72 % van de patiënten effectief. De meest voorkomende complicatie, een urineweginfectie, treedt bij minder dan 5 % van de patiënten op. Ten opzichte van TURP lijkt PAE op de korte termijn inferieur te zijn en gepaard te gaan met meer complicaties. Echter in bepaalde gevallen, bijvoorbeeld bij patiënten met veel comorbiditeiten of met een vitale antistollingsindicatie, kan PAE een veelbelovend alternatief zijn.