01-03-2011 | Uitgave 1/2011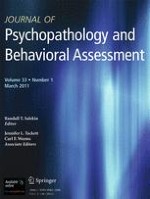 Screening for Eating Disorders in Undergraduate Women: Norms and Validity of the Spanish Version of the Eating Disorder Examination Questionnaire (EDE-Q)
Auteurs:

Ana M. Villarroel, Eva Penelo, Mariona Portell, Rosa M. Raich
Belangrijke opmerkingen
Dr. Rosa M. Raich is Professor at the Department of Clinical and Health Psychology at the University Autonomous of Barcelona (Spain). She has published widely on eating disorders and body image and has a special interest on preventive programs in adolescents. She has received several grants to support the study of these fields. In addition, she has developed and/or adapted in Spain several instruments to assess disordered eating and body image disturbances. This paper is part of the thesis dissertation of Dr. Ana M. Villarroel, which was directed by Prof. Raich and Dr. Portell.
Abstract
The purpose of this investigation was to examine the internal consistency reliability and the convergent validity of the Spanish version of the Eating Disorder Examination Questionnaire (EDE-Q) and to provide EDE-Q norms for Spanish undergraduate women. Seven hundred eight college women, aged 18–30 years, volunteered to complete the EDE-Q, BSQ and EDI-2. Satisfactory internal consistency for the four subscales and the global score of the EDE-Q was obtained (Cronbach's α ≥ .81). The EDI-2 Drive for Thinness and Body Dissatisfaction subscales and the BSQ global factor score correlated highly and positively with the corresponding EDE-Q subscales (
r
 ≥ .72). Average scores, standard deviations and percentile ranks for the raw EDE-Q subscales and data on the occurrence of binge eating and compensatory behaviors are presented. Most of these values were lower than those found in other non-European developed countries. Results support the satisfactory internal consistency and convergent validity of the Spanish version of the EDE-Q. Lower scores in EDE-Q subscales suggest the need to study a lower cut-off point for clinical significance in Spanish college women. These data will help clinicians and researchers to interpret the EDE-Q scores of college women in Spain.