18-01-2019 | Uitgave 4/2019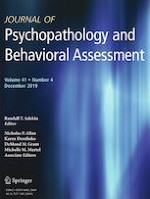 Schizotypy from the Perspective of the
DSM-5

Alternative Model of Personality Traits: a Study on a Sample of 1056 Italian Adult University Students
Auteurs:

Antonella Somma, Robert F. Krueger, Kristian E. Markon, Serena Borroni, Andrea Fossati
Belangrijke opmerkingen
Electronic supplementary material
Publisher's Note
Springer Nature remains neutral with regard to jurisdictional claims in published maps and institutional affiliations.
Abstract
To assess the relationships between schizotypy measures and
DSM-5
Alternative Model of Personality Disorders (AMPD) traits, 1056 (69.4% female; mean age = 23.30 years) University students, were administered the Italian translation of the Schizotypal Personality Questionnaire (SPQ), Schizotypal Personality Scale (STA), Schizotypy Scale (SS), and Personality Inventory for
DSM-5
(PID-5). Exploratory structural equation modeling (ESEM) suggested that the SPQ, STA, and SS Schizofrenism scale total scores may represent primary measures of schizotypy/Schizotypal personality disorder (PD), whereas the SS anhedonia (AH) total score represent an index of the general anhedonia level. MAMBAC, MAXCOV, and LMode taxometric analyses showed that both schizotypy and anhedonia constructs had a dimensional distribution (all comparison curve fit index values<.40). Bayesian confirmatory factor analysis (CFA) supported a two-factor model of SPQ, STA, SS SZ and SS AH scale total scores. Hierarchical regression analyses showed that
DSM-5
AMPD traits that were hypothesized to define the Schizotypal PD profile (i.e., Cognitive and Perceptual Dysregulation, Unusual Beliefs and Experiences, Eccentricity, Restricted Affectivity, Withdrawal, and Suspiciousness), as well as the additional specifiers (i.e., Anxiousness, and Depressivity) explained 66.0% of the systematic variance in the schizotypy factor scale scores. Our findings suggested that schizotypy could be represented as a continuously-distributed latent variable which may be effectively described in terms of a coherent system of dysfunctional personality traits.