15-07-2020 | Review Article | Uitgave 7-8/2020 Open Access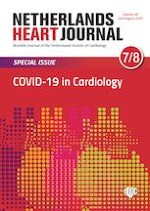 SARS-CoV-2/COVID-19: a primer for cardiologists
Tijdschrift:
Auteur:

A. A. F. de Vries
Belangrijke opmerkingen
Electronic supplementary material
Abstract
In the late autumn of 2019, a new potentially lethal human coronavirus designated severe acute respiratory syndrome coronavirus 2 (SARS-CoV-2) emerged in Wuhan, China. The pandemic spread of this zoonotic virus has created a global health emergency and an unprecedented socioeconomic crisis. The severity of coronavirus disease 2019 (COVID-19), the illness caused by SARS-CoV‑2, is highly variable. Most patients (~85%) develop no or mild symptoms, while others become seriously ill, some succumbing to disease-related complications. In this review, the SARS-CoV‑2 life cycle, its transmission and the clinical and immunological features of COVID-19 are described. In addition, an overview is presented of the virological assays for detecting ongoing SARS-CoV‑2 infections and the serological tests for SARS-CoV-2-specific antibody detection. Also discussed are the different approaches to developing a COVID-19 vaccine and the perspectives of treating COVID-19 with antiviral drugs, immunomodulatory agents and anticoagulants/antithrombotics. Finally, the cardiovascular manifestations of COVID-19 are briefly touched upon. While there is still much to learn about SARS-CoV‑2, the tremendous recent advances in biomedical technology and knowledge and the huge amount of research into COVID-19 raise the hope that a remedy for this disease will soon be found. COVID-19 will nonetheless have a lasting impact on human society.