28-11-2019 | Original Article | Uitgave 2/2020 Open Access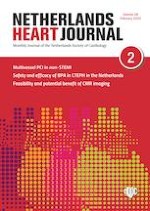 Safety and efficacy of balloon pulmonary angioplasty in chronic thromboembolic pulmonary hypertension in the Netherlands
Tijdschrift:
Auteurs:

M. C. J. van Thor, R. J. Lely, N. J. Braams, L. ten Klooster, M. A. M. Beijk, R. H. Heijmen, D. A. F. van den Heuvel, B. J. W. M. Rensing, R. J. Snijder, A. Vonk Noordegraaf, E. J. Nossent, L. J. Meijboom, P. Symersky, J. J. Mager, H. J. Bogaard, M. C. Post
Belangrijke opmerkingen
M.C.J. van Thor and R. Lely contributed equally to the manuscript.
Publication
The authors declare that neither the work nor any part of its essential substance or tables have been or will be published or submitted to another scientific journal or are being considered for publication elsewhere. There are no simultaneous submissions of similar or related manuscripts at the point of submission.
Abstract
Background
Balloon pulmonary angioplasty (BPA) is an emerging treatment in patients with chronic thromboembolic pulmonary hypertension (CTEPH) and chronic thromboembolic disease (CTED). We describe the first safety and efficacy results of BPA in the Netherlands.
Methods
We selected all consecutive patients with inoperable CTEPH and CTED accepted for BPA treatment who had a six-month follow-up in the St. Antonius Hospital in Nieuwegein and the Amsterdam University Medical Center (UMC) in Amsterdam. Functional class (FC), N‑terminal pro-brain natriuretic peptide (NT-proBNP), 6‑minute walking test distance (6MWD) and right-sided heart catheterisation were performed at baseline and six months after last BPA. Complications for each BPA procedure were noted.
Results
A hundred and seventy-two BPA procedures were performed in 38 patients (61% female, mean age 65 ± 15 years). Significant improvements six months after BPA treatment were observed for functional class (63% FC I/II to 90% FC I/II,
p
 = 0.014), mean pulmonary artery pressure (−8.9 mm Hg,
p
 = 0.0001), pulmonary vascular resistance (−2.8 Woods Units (WU),
p
 = 0.0001), right atrial pressure (−2.0 mm Hg,
p
 = 0.006), stroke volume index (+5.7 ml/m
2
,
p
 = 0.009) and 6MWD (+48m,
p
 = 0.007). Non-severe complications occurred in 20 (12%) procedures.
Conclusions
BPA performed in a CTEPH expert centre is an effective and safe treatment in patients with inoperable CTEPH.