01-06-2011 | Original Article | Uitgave 3/2011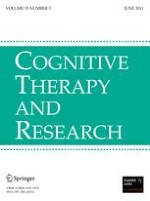 Rumination in Clinical Depression: A Type of Emotional Suppression?
Tijdschrift:
Auteurs:

Gabrielle I. Liverant, Barbara W. Kamholz, Denise M. Sloan, Timothy A. Brown
Abstract
This study examined the relationship between rumination and the use of other emotion-regulation strategies in a depressed sample. Sixty outpatients diagnosed with unipolar depression completed questionnaires and participated in a sad mood induction. The mood induction was used to investigate the relationship between the use of rumination and each of two theoretically relevant emotion-regulation strategies—suppression and acceptance. Findings demonstrated that rumination was positively associated with other types of suppression and negatively related to acceptance. Results offer tentative support for the conceptualization of rumination as a maladaptive, cognitive emotion-regulation strategy utilized by depressed individuals in an attempt to suppress their experience of negative emotion. Findings also suggest a potential mechanism of action for efficacious mindfulness and acceptance-based treatments for depression.