01-03-2010 | Uitgave 1/2010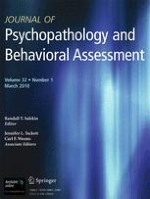 Ruminating on Rumination: are Rumination on Anger and Sadness Differentially Related to Aggression and Depressed Mood?
Auteurs:

Maya Peled, Marlene M. Moretti
Belangrijke opmerkingen
This study was supported by the CIHR Institute of Gender and Health (IGH) in partnership with the CIHR Institute of Human Development, Child and Youth Health (IHDCYH) through a New Emerging Team grant awarded to Dr. M. Moretti (CIHR # 54020). This research also was funded by the Social Sciences and Humanities Research Council of Canada (SSHRC) through a doctoral fellowship awarded to M. Peled.
Abstract
Rumination is a risk factor for aggression and depression, yet few studies have incorporated both aggression and depression in a unitary model that reflects how rumination predicts these distinct conditions. The current study examined rumination on anger and sadness to assess their unique relations with aggression and depressed mood, respectively. Analogous anger rumination and sadness rumination questionnaires were used to minimize measurement variance, and were completed by 226 undergraduate students. Factor analysis suggested one general rumination factor comprised of two distinct sub-factors of anger rumination and sadness rumination. Path analysis confirmed unique relations between anger rumination and aggression, and sadness rumination and depressed mood. Further, anger rumination and anger were independent predictors of aggression. Results supported the conceptualization of anger rumination and sadness rumination as distinct constructs and underscore the importance of pursuing research that incorporates both forms of rumination to better understand how they impact development, mental health, and behavior.