19-04-2017 | ORIGINAL PAPER | Uitgave 5/2017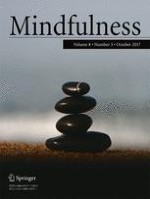 Role of Resilience in Mindfulness Training for First Responders
Tijdschrift:
Auteurs:

Joshua Benjamin Kaplan, Aaron L. Bergman, Michael Christopher, Sarah Bowen, Matthew Hunsinger
Abstract
First responders are exposed to critical incidents and chronic stressors that contribute to a higher prevalence of negative health outcomes compared to other occupations. Psychological resilience, a learnable process of positive adaptation to stress, has been identified as a protective factor against the negative impact of burnout. Mindfulness-Based Resilience Training (MBRT) is a preventive intervention tailored for first responders to reduce negative health outcomes, such as burnout. This study is a secondary analysis of law enforcement and firefighter samples to examine the mechanistic role of psychological resilience on burnout. Results indicated that changes in resilience partially mediated the relationship between mindfulness and burnout and that increased mindfulness was related to increased resilience (
b
= 0.41,
SE
= 0.11,
p
< .01), which in turn was related to decreased burnout (
b
= −0.25,
SE
= 0.12,
p
= .03). The bootstrapped confidence interval of the indirect effect did not contain zero [95% CI; −0.27, −0.01], providing evidence for mediation. Limitations and implications are discussed.