01-10-2007 | Original Paper | Uitgave 5/2007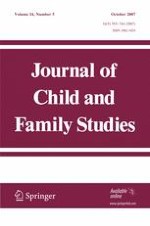 Risk and Protective Factors for Children of Adolescents: Maternal Depression and Parental Sense of Competence
Tijdschrift:
Auteurs:

Lisa L. Knoche, Jami E. Givens, Susan M. Sheridan
Abstract
We investigated the relationship between depression and parental sense of competence to child cognitive outcomes for a sample of 49 adolescent mothers and their young children (
Mean age
=9 1/2 months) enrolled in a student parenting program. Cognitive development of the infants and toddlers was assessed using the Bayley Scales of Infant Development. Maternal depression was assessed with the CES-D and parental competence measured with the Parental Sense of Competence Scale. Results indicated that maternal depression and parental sense of competence alone did not predict children's cognitive scores; the interaction of the variables significantly predicted children's outcomes. Mothers reporting high levels of depression, who self-reported high levels of parental competence, had children who scored higher on the Bayley. Children of mothers with high levels of depression, and low reported levels of competence scored lower on the Bayley. The relationship was not significant for mothers reporting low levels of depression. Our findings suggest additional research needs to focus on the buffering effect of parental sense of competence for adolescent mothers experiencing depression.