01-11-2014 | Getoetst | Uitgave 6/2014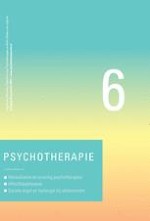 Risicofactoren, persoonskenmerken en behandeling van adolescenten met sociale angst en faalangst
Tijdschrift:
Auteur:

Esther Sportel
Belangrijke opmerkingen
E. Sportel is psycholoog/onderzoeker en werkzaam bij GGZ Drenthe te Assen. Gebaseerd op het proefschrift 'At risk for social and test anxiety. Who are at risk and how can we help?' Sportel, B.E. (2013). Proefschrift Rijksuniversiteit Groningen.
Samenvatting
Sociale angst en faalangst zijn veelvoorkomende angststoornissen. De gevolgen van deze stoornissen kunnen ernstig zijn. Om de klachten in een vroeg stadium aan te kunnen pakken, is het noodzakelijk enerzijds te kijken naar risicofactoren voor het ontstaan van deze klachten en anderzijds te kijken naar laagdrempelige interventies die ingezet kunnen worden wanneer de eerste klachten zich manifesteren. Het hier beschreven onderzoek onder adolescenten gaat in op beide elementen. Op het gebied van risicofactoren wordt aangetoond dat de persoonlijkheidskenmerken gedragsinhibitie,
fight-flight-freeze
-systeem en aandachtscontrole cross-sectioneel samenhangen met angst- en stemmingsklachten. Longitudinaal wordt dit verband eveneens gevonden. Dit longitudinaal verband valt echter weg na correctie voor eerdere angst- en stemmingsklachten, met uitzondering van de voorspellende waarde van aandachtscontrole bij depressieve klachten. Deze bevindingen duiden erop dat over tijd angstklachten het beste voorspeld worden door eerder gemeten angstklachten. Voor depressieve klachten is echter ook een rol weggelegd voor aandachtscontrole. Daarnaast worden een cognitieve gedragstraining in groepsverband (CGT), een cognitieve
bias
-modificatie (CBM) en een controlegroep vergeleken in hun effectiviteit in het verminderen van sociale angst en faalangst. CGT blijkt effectief ten opzichte van een controlegroep in het verminderen van faalangst, direct na de training en ook bij een
follow-up
na een half jaar. Voor CBM worden deze effecten niet gevonden. Verder is CGT effectief in het verminderen van sociale angst, een half jaar na de trainingen. Voor CBM wordt een trendsignificant effect gevonden, een half jaar na de training.