01-03-2013 | Uitgave 1/2013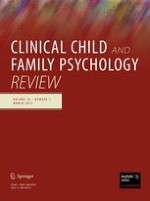 Revisiting Data Related to the Age of Onset and Developmental Course of Female Conduct Problems
Tijdschrift:
Auteurs:

Lauretta M. Brennan, Daniel S. Shaw
Abstract
Children who exhibit persistently elevated levels of conduct problems (CP) from early childhood, so-called early-starters, are known to be at increased risk for continued CP throughout middle childhood, adolescence, and adulthood. Theoretical and empirical work has focused on this subgroup of children characterized by similar risk factors, an early age of onset, and a persistent developmental course of CP. However, females were historically neglected from this literature. Although research on female CP has increased, conclusions drawn from limited prior work continue to predominate. The primary aim of this review was to evaluate the updated literature to determine the percentage of females who show the early-starter CP pattern relative to two other trajectories often theorized to be more characteristic of females: early-starting desisting and adolescent-onset CP. The findings suggest that a subgroup of females exhibits an early-starting
and
persistent CP pattern, while a separate group of females demonstrates an onset of CP in adolescence. In addition, although it has been argued that females with childhood CP are not likely to show CP into adolescence and adulthood, evidence for early-starting desisting CP was inconsistent. The results are discussed with respect to implications for developmental taxonomy theory and future basic research in the area of CP development, as well as intervention efforts.